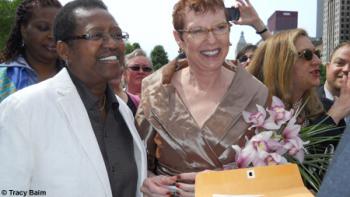 Two Chicago women are set to become Illinois' first ever same-sex married couple, and it will happen seven months before same-sex marriage can officially begin in the state. A federal judge today ruled that the Cook County Clerk's Office issue the license early to Chicago couple Vernita Gray and Pat Ewert because Gray is terminally ill with breast cancer and might not live until June, when the law officially takes effect.
"Vernita is terminally ill and she wishes to marry the woman she loves before she dies—and now she won't have to wait another day," said Camilla Taylor, Marriage Project Director for Lambda Legal. "These two women, who have loved and cared for each other in good times and bad, through sickness and through health, will get to know what it means to be married."
Cook County Clerk David Orr says he was pleased with the judge's ruling and sent an employee in his office to their home to deliver the marriage application this evening. An official from the clerk's office has to be present when they sign it before the marriage license can be issued. They are then allowed to be married anytime after midnight, but officials in the clerk's office say the couple hasn't yet set a date and time for the ceremony.
The couple was thrilled with today's ruling.
"I have two cancers, bone and brain, and I just had chemo today - I am so happy to get this news," said Gray. "I'm excited to be able to marry and take care of Pat, my partner and my family, should I pass."
"The court recognized that Vernita and Pat should not be denied the freedom to marry simply because of the arbitrary nature of the start date of the new law," said John Knight, LGBT Project Director at the ACLU of Illinois. "Their love deserves the dignity of marriage now and there is simply no justification for forcing them to wait."
Gov. Pat Quinn signed same-sex marriage into law last Wednesday. Because it passed with just a simple majority during a legislative veto session, the law cannot officially take effect until next June.