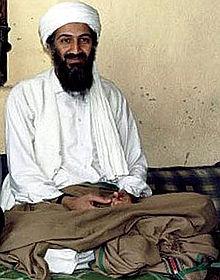 A Michigan man described as "an accomplished international gem merchant" says he's owed $25 million from the FBI for allegedly giving them the tip that led to the death of Osama bin Laden. Tom Lee of Grand Rapids retained Chicago lawyer Michael Kanovitz to petition the FBI for the money. In a letter sent to FBI Director James Comey, Kanovitz claims that "In 2003, Mr. Lee accurately reported to Special Agent Roberta Gilligan the location of the compound where Osama bin Laden was hiding in Abbottabad, Pakistan, the very location where bin Laden was subsequently found and killed during a raid carried out by members of the U.S. military."
The letter says Mr. Lee received notification from a Pakistani Intelligence Agent that bin Laden had been living in that country. The agent allegedly told Lee that he relocated bin Laden and his family to the compound in Abbotabad at the direction of the Pakistani Intelligence Agency ISI.
The letter says that Mr. Lee shared the information with Special Agent Roberta Gilligan in the Grand Rapids FBI Field Office. Gilligan, currently in the Lansing, Michigan field office, did not return calls for comment.
Lee is described as "an American citizen of Egyptian heritage," who has "a long history of working with U.S. government investigators and providing high-quality information about international criminals."  The letter says that in 1986, he outted a corrupt Naval Intelligence officer who had tried to launder money he received from the Soviet Union for giving them U.S. military secrets.
Mr. Kanovitz says Lee is owed the $25 million award under the U.S. Department of State's "Rewards for Justice" program. No lawsuit has been filed so far.  Kanovitz did not provide any further comment.