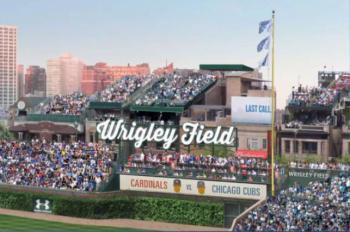 While the World Series plays out in the confines of Fenway Park and Busch Stadium, the Cubs are in the midst of a heated contest of their own involving Wrigley Field.
A source with the Cubs says the Ricketts are entertaining discussions about buying some of the rooftop properties. The source says some owners have come to the Cubs with the intent to sell, and that the Cubs are listening, but the two sides are nowhere near agreement in terms.  A spokesperson for the rooftop owners could not be immediately reached for comment. 
The Cubs won approval from City Council this summer to begin their $500 million redevelopment plan, but they say they will not begin on the project until rooftop owners drop the threat of suing. The Cubs want to erect a jumbotron and a big sign that rooftops fear will partially block their views of the field – violating a contract they have with the team. No permits have been ordered, and nothing has begun even though the Cubs made the case that they needed approval so they could start right in the offseason.
It turns out they are being sued by someone else. He is a landlord named Thomas Romano who owns property right behind the McDonald's on Clark – where a proposed nine-story hotel is set to go up. Romano has sued the City of Chicago and the Cubs, saying the zoning change that City Council approved that would allow the nine-story building is illegal. He also says the development will cause 'the value of the Romano property to decrease significantly and will 'negatively affect the use and enjoyment of the Romano Property and other adjacent residential properties.' Romano is seeking an immediate injunction on the property and $6 million in damages. A spokesperson with the Cubs would not comment on the lawsuit.