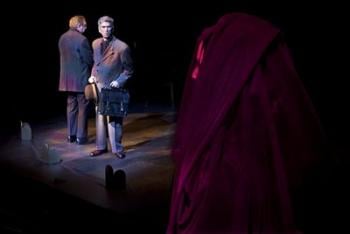 If you long for Halloween thrills that don't involve dungeons, dismemberments or demented killers, make an appointment with The Woman in Black.
The Woman in Black weaves its web with subtle chills instead of gross-out effects. In the play, a London solicitor hires an actor to help rid him of a spectral being that he believes has cursed his life. In a novel twist, the play takes place in an old Victorian theater, so each lighting and audio cue is a natural extension of the show within a show.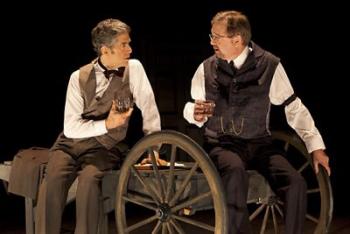 There are just two actors – and one fleeting apparition. The performers, Chris Bruzzini and Jim Hannigan, are more than up to the task. Previously, they've appeared together as Count Dracula and Professor Van Helsing, so their on-stage chemistry comes with a gothic pedigree.
The cast is directed by the theater's artistic director, Rick Snyder. A Steppenwolf Theatre ensemble member, Snyder directs at the finest theaters in Chicago and has a reputation as an actor's director. Here, he proves himself equally adept with actors and phantoms.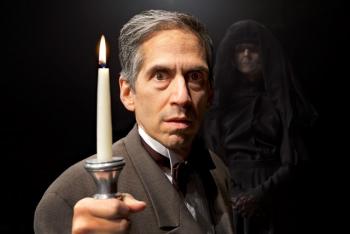 The Woman in Black has played London's West End for 25 years, but it won't last long here. The Theatre of Western Springs maintains a busy schedule with each production only on stage for two weekends. Just five performances remain through Sunday.
So if you know a teenager with an appreciation for traditional scares, or you need to make a date with someone who has an appetite for mystery, meet The Woman in Black before she disappears.