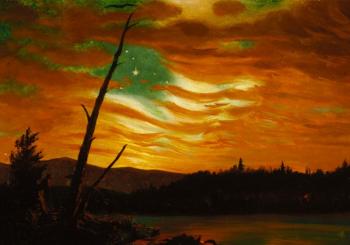 Entering the exhibition Home Front: Daily Life in the Civil War North at the Newberry Library, you're seized by a small but passionate landscape. As allegories go, "Our Banner in the Sky" isn't very subtle. It's a dramatic vision of an American flag emerging from a sunrise, and it's a call to arms at the dawn of war. Painted by Frederic Church, a landscape painter of the Hudson River School, it was Church's attempt to communicate patriotism in symbolic terms. 
It was a smashing success. A New York firm bought the copyright to "Our Banner in the Sky" and produced a lithograph that was popular in the North just months after the war started. It was so popular that the image was imitated by other publishers seeking to capitalize on its success. Even during war, capitalism thrives.
The last painting you'll see in the exhibition is a large landscape filled with unexpected emotion. Civil War veteran Sanford Robinson Gifford painted "Hunter Mountain, Twilight" in 1866, soon after the war had ended. He depicts a glowing but somber countryside at sunset. Gifford lost two brothers in the war, and it's thought that these losses added to the reflective mood of this painting. Still the image is hopeful. The landscape may be devastated in the foreground, but livestock on a working farm points to a future where veterans can return to their homesteads and begin to rebuild the nation.
For much more on the visual culture on the home front during the Civil War, visit the digital companion exhibition created by The Newberry Library and the Terra Foundation for American Art.