Arlene Marks used to paint five or six hours a day. As a suburban housewife in the '60s, she says art was almost as important as her family. But, after back surgery and other health problems, she had to give it up several years ago.
"I just couldn't do any more," she said. "Artists are not supposed to say that. They're supposed to say, 'I would never stop painting, I'll paint all my life.'"
Then, about a year ago, Arlene needed more help and moved into assisted living at the Seasons Retirement Community in north suburban Northbrook. That's when she found new inspiration.
"My name is Bess Sells. I am 96 years old."
"My name is Dr. George Cooper, I'm 100 years old."
"My name is Gerald Belonsky. And I won't tell you my age."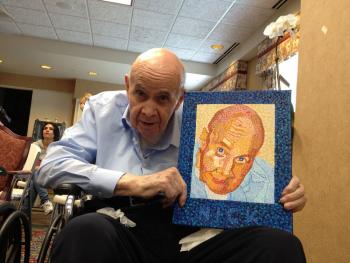 "When I was here, after a couple months up on the second floor, I started looking around and I thought these people would be very interesting to paint," said Arlene.
One by one, Arlene took pictures of her neighbors. Then, up in the arts and crafts room, she painted their portraits. 
The results are charming. Each painting includes the subject's name and a border in their favorite color.
"And one guy, I said, 'what's your favorite color?' He said, 'pink.' I said 'pink?' He said, 'now don't say anything, that's my favorite color!'" said Arlene.
Now, after eight months and eight portraits, Arlene has started painting some of the staff, like Windsor.
"Windsor drives our bus, and sometime he helps at the desk," she said. "I just like his face."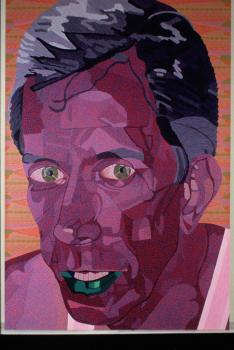 Arlene Marks began painting as a young mom when her kids were in school. Her work often featured iconic Chicago places like Riverview, and some familiar faces. A giant Wrigley Field installation included 36 six-foot tall canvases. Her mentor and teacher for many years was famed Chicago artist, Ed Paschke.
Arlene loves dots. Her paintings are full of them. She says the inspiration came when she was 10, and first saw a familiar pointillist masterpiece at The Art Institute -- A Sunday Afternoon on the Island of La Grande Jatte by Georges Seurat.
"At that time, nothing was in front of it, so I would go up to it like this and look at those dots," she said.
When Arlene finished those first eight portraits, the residents of the retirement home were invited to a special exhibition. It was a chance for many of her subjects to see their paintings for the first time. And the rest of us could see subject and portrait, side by side.
All of this new attention for Arlene's work is gratifying of course, but mostly she's just grateful that her neighbors have led her back to her art.