We get a backstage tour of the newest theater in town – the architecturally significant Theatre School of DePaul University, conceived by the world-renowned architectural firm of Pelli Clarke Pelli. With floor-to-ceiling glass on the ground floor, the new space emphasizes openness and transparency. View a photo gallery of the Theatre School's new location.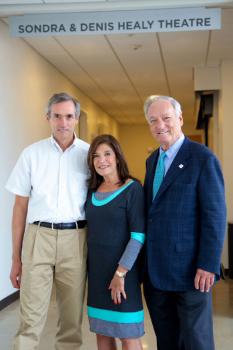 The new facility, which is located on the corner of West Fullerton and North Racine avenues in Lincoln Park, includes classrooms, rehearsal spaces, design studios, and a 250-seat thrust theatre. The five-story building also entails a flexible 100-seat black-box theatre named after DePaul benefactors Sondra Healy and her husband, Denis, who are co-chairmen of Willowbrook-based Turtle Wax Inc. Sondra is also a 1964 alumna of the Goodman School of Drama, which later incorporated into the Theatre School at DePaul University. View a timeline for a detailed history of The Theatre School.
We spoke with Sondra about the school's new home right before the ribbon cutting ceremony at the new building.
What impact will this new facility have on the Chicago theater scene?
I think young talent will benefit from it. Chicago is a thriving community for young talent. That includes young actors, playwrights, directors, and costume designers.
What's unique about the theatre school's new home?
It is just breathtaking. There's a whole area just for making wigs and costumes. Performance elements can even take place in the large lobby, which has a balcony. And the walls are glass, so people can look in and see everything that's going on. It's absolutely spectacular.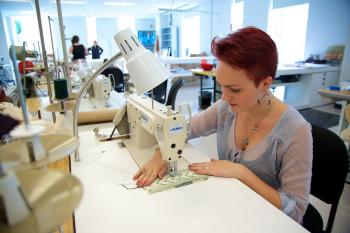 Who can enjoy this new building?
It's a state-of-the art conservatory and I think it will have a big impact on the Lincoln Park area. It's not just for DePaul students to enjoy. It's for everybody in the neighborhood.
Interview has been condensed and edited.