Jay Shefsky introduces us to a basketball team you won't forget on Chicago Tonight at 7:00 pm. View a photo gallery of the Skyhawks basketball team during practice.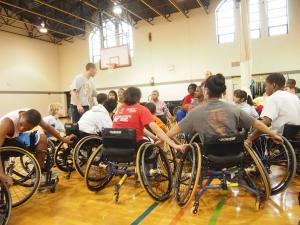 Before the game, the players switch from their regular wheelchairs into their game chairs. There will be some formal drills…but it doesn't look like they'll need much of a warm up.
"I want you to get everyone from the JV team and get them into the other gym right now," calls out Coach Trent Thenhaus of the Chicago Skyhawks.
Thenhaus coaches the older division, comprised of players ages 14-17 and Coach Dan Ferriera leads the 6-13 year olds. They come from all over the city and practice weekly at Rainbow Beach Park on the Southside.  Today they're at St. Xavier University to play against three other teams from all over the Chicago area.
The idea of junior wheelchair basketball may sound like little more than a nice activity for disabled kids, but this is a serious sport.
"This is 100% sports. There are winners and losers. We're getting out there; we're trying to compete to win. Our ultimate goal is to make it to the championships," says Coach Trent.
The program is run by the Rehabilitation Institute of Chicago, or RIC, and the Chicago Park District. Most of the players are disabled since birth. But some kids, like Martrell Stevens, are victims of street violence.
"When I was four years old I got shot. It hit through my back and came out of my side," said Martrell Stevens.
"The bullet missed his heart by one inch, missed his spine by one inch, did damage to his spinal cord," said Martrell's mom, Lakeesha Rucker.
"I remember the first time he got in his chair, and he was like, wow. And he just liked going fast. And what kid doesn't like just going fast?" said Coach Dan Ferriera.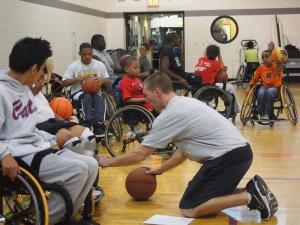 Coach Dan has been playing wheelchair basketball himself since he was 15. He said the day he started playing was the day he stopped feeling isolated.
"A lot of our kids, they might be the only person with a disability in their school. I remember growing up and feeling alone. So when I came into a gym and I saw all the people like me, it was comforting" said Coach Dan.
Surprisingly, not all of the wheelchair basketball players are in wheelchairs everyday. But they all have some kind of lower limb disability.
"It could be a spinal cord injury, cerebral palsy; it could be spin bifida, amputations, brittle bone," said Coach Trent.
"I don't want my disability to define me. I don't want my kid's disability to define them. But that often happens. The first thing people are going to see is, oh, that kid walks funny. Or, that person is in a wheelchair," said Coach Dan.
Brianna Samuels was playing for the able-bodied basketball team at South Shore High School in Chicago just one year ago. Then she was hit by stray gunfire at a bus stop.
"I got shot in my back and my thigh. It fractured my back," said Samuels.
The idea of wheelchair basketball came up while she was still being treated at RIC.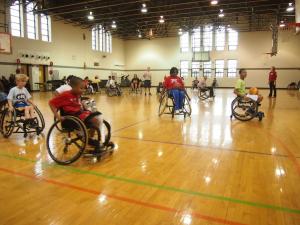 "Trent came to me and said, 'well you can play wheelchair ball. It's fun, it's different,'" said Samuels.
"She was very angry that she was in a chair at the hospital, quiet…didn't really want to speak to many people," said Coach Trent.
But he did convince her to give it a try.
"I aint' looked back ever since. I've been liking it, meeting new people," said Samuels. "My arms getting strong, pushing the wheelchair, crashing into people, you know," she continued.
When I asked what she meant by crashing into people, she replied, "It's fun! You get to see them fall, then help them up, say I'm sorry, and smack the ball out their hand," said Samuels.
Those wheelchair basketball chairs have been designed to make the game both faster and safer.
"The wheels are slanted and it does two things. One, it allows you to spin really quickly because your base is wider and at an angle, so you can turn really quick," said Coach Dan. "The other thing it does is it helps add to the stability of the chair. It sells the sport being able to go fast."
"Sometimes it does get pretty rough in there too. We get some crashes, some people flip over, sometimes little bumps and bruises, but that's sports," said Coach Trent.
But Ewan Patterson, whose son James has cerebral palsy, says these kind of experiences can build character.
"I think it's good actually. I think it's good because it gives him a chance to be robust and do stuff like that, because again, being disabled, he tends not to get involved much with the kind of rough and tumble of life. I think a few bruises now and then might help actually," said Patterson.
"It's an inherent risk and that's part of it. You know you're not ever going to be able to take all risk out of sports, whatever it may be. It's just part of it," said Coach Dan.
Coach Dan says wheelchair basketball is different from regular basketball in that it's more action.
"It's more action because you gotta roll, you gotta move, you gotta move left and right, you gotta get through. It's not just regular running, it's hard to get down a court. You gotta have that motivation to do it," he explains.
"I'm trying to teach our kids that, you know what? Life is hard and you're going to have obstacles, but you have to find a way by them. That's what I love about having basketball being a team sport is now, you're not trying to find a way past an obstacle yourself. You have a team, teammates to lea on, teammates to help you," said Coach Dan.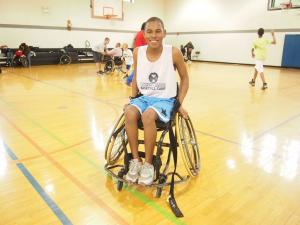 One teenage player, Mikael Jackson, likens his coaches to a family.
"Dan is the mother and Trent is the father," Jackson says. "Dan is like that cheesy mother that like wants you to live out your best potential and Trent just wants you to get things done."
"Trent and Dan are fantastic. The commitment and the way they treat the kids is fantastic and James talks about them all week and waits to see them, so if it wasn't for them, we wouldn't be here," said Patterson.
And just like many other youth sports, wheelchair basketball can offer disabled kids a road to college and scholarship money.
"We are basically like a high school coach. We are helping them get recruited, we want our kids to go to college, we want them to succeed, so our goal is to do everything we can to get them into college," said Coach Trent. "So we press them for their grades, we are pushing them to make sure they are studying, make sure that they are doing everything right."
Dan Ferriera says that everything good in his life he owes to wheelchair basketball, from a better attitude about himself and his disability to his friends and his job. And even his fiancé, who he met because she works for one of the other teams.
He wants these kids to learn that they can handle whatever life throws your way.
"You could acquire a disability tomorrow, and all of a sudden, what are you going to do with your life? Well the thing I would walk into your hospital room and say, 'you know what? I think you should come out and try wheelchair basketball,'" said Coach Dan.