A local festival brings the love to Ludwig van Beethoven. Artists from a dozen countries converge in Chicago for 100 events that celebrate this giant of classical music in surprising ways. The festival takes place September 7-15. View a slideshow of some of this year's artwork.
We talked with the festival's art director, Catinca Tabacaru, about this year's events.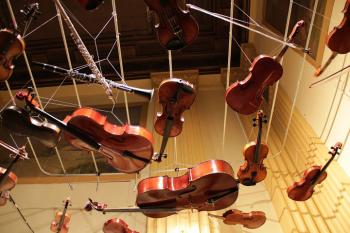 What does your role as Art Director entail?
I'm one of the founders of the festival, and I invite the artists. My goal as the director is to provide a platform for the artists and allow their voices to come through in an authentic way. I want the theme – love -- to be an inspiration, not a constraint for them.
Has the festival grown since it first began in 2011?
The first year we were in Pilsen in an art gallery. During the first festival, we had 25 concerts over a period of five days. The second year, we had 60 concerts over a period of nine days. And this year, we have 100 events taking place at four different venues. So it has grown, and the music and art have become more integrated.
What are some styles that will be on display?
There's bleach on satin, photography, video, installation art, sculpture, and wire work.
Is there a message that you hope is conveyed through the artwork?
This year, I wanted to explore modern themes of love, and what I discovered is that love is incredibly complex. It's such a personal relationship that we have with this thing called love. Everyone expresses it differently, so with 35 artists, we are exploring 35 different takes on love and things about love that they want to explore, whether that's nature, playfulness or social responsibility. The exhibit is always based on the idea of breaking boundaries between music and other forms of art.
This exhibit presents artists integrating modern themes of love. Do each of these pieces also have to do with Beethoven?
He's the inspiration behind all of it. A lot of the artists are inspired by his music. They have a connection to classical music, and it resonates with them. Also, the actual inspiration of the "love" theme comes from the letters that Beethoven wrote for his immortal beloved. He wrote three letters over a few days, and we have large transcriptions of those letters on display at the festival.
Are there any elements of the exhibit that stand out to you as particularly interesting?
One artist has used very thin wire to anatomically create the organs of the heart, which hangs from the ceiling. Another is a collaborative performance between two artists that is geared toward the hearing impaired. One of them is a visual artist, and the other is more on the music side. During their performance, there's an overlap of live music, recorded music, video and dance, and it creates vibrations that people can feel.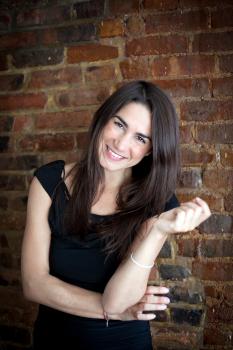 Are any favorites from last year returning?
Last year, Justin Orvis Steimer painted a mural, which served as a backdrop throughout the entire festival. This year, he is coming back to do a project where he is painting a 10-foot-tall piece in the center of Two North Riverside Plaza. However this is fresh and new. We don't repeat things. He's gone from 2D to 3D, inside to outside.
The schedule of events says that attendees will get a chance to meet the artists during dinners throughout the festival. Why is that an important element of the experience?
The dinners are really special for us. People can ask them questions, and hang out with them. Meeting the artists really provides a deeper understanding of their work. During the dinners, we also have impromptu performances by artists and musicians.
How many people are expected to attend this year's events?
About 3,000.
Why is this festival unique?
You really can't experience this anywhere else. The format doesn't exist anywhere else. We have created a situation where classic music is fresh.
Interview has been condensed and edited.
Photos courtesy of Silverman Group.