Jazz music, a one-woman show, and a Labor Day parade; Chicago Tonight knows what's going on this weekend.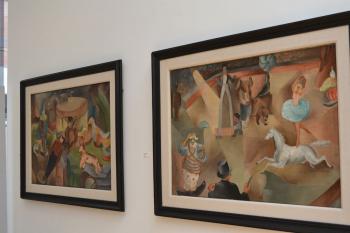 The Art of Sadie & Leon Garland
This week on Chicago Tonight, we took a close look at an exhibit that showcases the artwork of two Depression-era artists who lived and taught at Jane Addams' Hull House. This weekend, you can check out the exhibit for yourself at the Koehnline Museum, located inside Oakton Community College in Des Plaines. Titled The Art of Leon and Sadie Garland, the exhibit features about 60 works of art that depict scenes in both Chicago and Europe. The free exhibit runs through Friday, September 20. This weekend, the museum is open from 10:00 am – 6:00 pm on Friday and 11:00 am – 4:00 pm on Saturday. For more information, click here.
Oakton Community College: Koehnline Museum of Art

1600 E. Golf Rd.
Des Plaines, IL 60016
(847) 635-1600
Mythical Proportions, starring Nora Dunn 


Head to Theater Wit this weekend to check out Saturday Night Live veteran Nora Dunn's one-woman show, Mythical Proportions. Dunn joined us on Chicago Tonight this week to talk about the performance, which reflects on her childhood in Chicago, and her journey through show business. Chicago Sun-Times Theater Critic Hedy Weiss said the performance is "full of lovely surprises, deft characterizations, a multitude of voices and a good deal of self-revelation." Another review from Chicago Tribune theater critic Chris Jones described it as a "funny but strikingly poignant one-woman show, which comes with a powerful undercurrent of melancholy and is quite different from what many of her fans will expect." The 1 hour and 10-minute performance runs through September 22, and tickets cost $35. This weekend's shows take place on Friday at 8:00 pm, Saturday at 7:00 pm, and Sunday at 3:00 pm. To learn more about the show and to purchase tickets, click here.

Theater Wit
1229 W. Belmont Ave.
Chicago, IL 60657
(773) 975-8150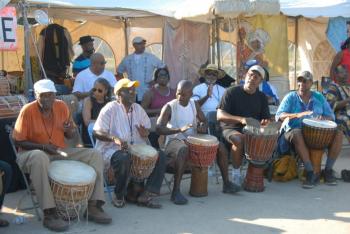 African Festival of the Arts
The 24th Annual African Festival of the Arts takes place this weekend in Washington Park. During the festival, a lineup of diverse musical performances includes Otis Clay and Grammy award winner Brandy. In addition to great music, several special pavilions that feature drumming, quilting, films, books, fine arts and more are sure to keep attendees entertained all weekend long. Guests who come with an appetite can sample an array of authentic African cuisine in the food court, such as Egusi from Nigeria and Wolof rice from Senegal. For youngsters, games, dancing, storytelling, and crafts will be offered in the Children and Family Pavilion. The festival runs from Friday, August 30 – Monday, September 2. Admission costs $20 at the gate or $30 for a 4-day weekend pass. A $30 family package for two adults and four children is also available for $30. For more information, click here. 

African Festival of the Arts

5100 S. Cottage Grove

Chicago, IL 60615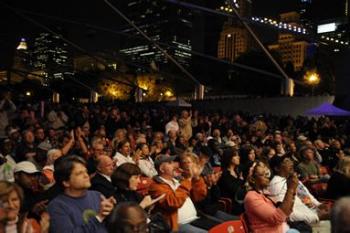 Chicago Jazz Festival
Grab a lawn chair and head to the 35th annual jazz festival at Millennium Park this weekend. A favorite Labor Day tradition, the Chicago Jazz festival's mission is "to showcase Chicago's vast jazz talent alongside national and international artists to encourage and educate a jazz audience of all ages." During the festival, jazz fans can attend performances by the Charles Lloyd Quartet, The Frank Russell Band, Donald Harrison, and many more. Best of all, every show is free. Performances on Friday will take place from 2:00 pm- 10:00 pm, and performances on Saturday and Sunday will take place from 12:00 pm – 10:00 pm. For a complete Chicago Jazz Festival schedule, click here.
Millennium Park

201 E. Randolph St.
Chicago, IL 60602
(312) 742-1168
Last Fling and Labor Day Parade in Naperville


If you're looking for a great way to get outside and celebrate Labor Day weekend, make your way over to Naperville for the Last Fling event. A running race, pony rides, a carnival, a pie-eating contest, and wine tasting are just some of the numerous activities offered during the family-friendly weekend. In addition to lots of fun activities, several live musical performances will take place throughout the weekend, including a performance by the Goo Goo Dolls at 8:00 pm on Saturday. For those looking for something festive to do on Monday, a parade will kick off at 10:00 am on Main Street and Jackson Avenue along the Riverwalk in Naperville, across the street from Naperville Central High School. The Last Fling takes place on Friday from 5:00 pm - 11:30 pm, Saturday from 10:00 am - 11:30 pm, Sunday from 10:00 am - 11:30 pm, and Monday from 10:00 am- 6:00 pm. For a full schedule of events and information about ticket prices for concerts and the carnival, click here.
Naperville Central High School
440 W. Aurora Ave.
Naperville, IL 60540