We look at a pair of artists who met, married and lived at Jane Addams' Hull House during the Depression era. The enduring paintings created by Leon and Sadie Garland feature subjects as disparate as Maxwell Street, Europe, and portraits of Hull House residents themselves – including Jane Addams. Their works are currently on view at the Koehnline Museum on the campus of Oakton Community College in Des Plaines. We have the story on Chicago Tonight at 7:00 pm.
We spoke with Nathan Harpaz, manager and curator at the museum, about The Art of Leon and Sadie Garland, the first major exhibit celebrating the art of both Sadie and Leon.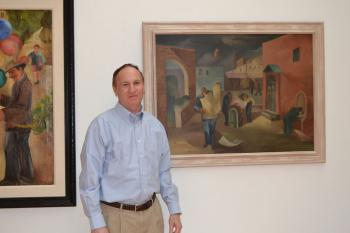 How did you decide to bring this exhibit to the museum?
We did a series of exhibitions before about this particular period of time, the Depression era, so we had an interest in it. It's a very interesting era because it was a time when artists were living under stress. Sadie and Leon lived and worked at Hull House, so it's a local story too.
How would you describe them as artists?
Great Depression era artists who had a very solid tradition of European painting, because they spent several years there.
What's unique about Leon and Sadie's pieces?
Part of the exhibit consists of pieces they produced in Europe, where they went right after they got married at Hull House. They took a long trip to Europe, several years, to learn and explore. Then they came back to Chicago in the middle of the Great Depression.
What's unique about them, compared to other American artists during the Depression, is that most other artists focused on social realism. However, because of the Garlands' European experience, they also inserted some more modern trends in art into their style. They experimented beyond realism, which was unique. In particular, you can see a lot of that in Sadie's work. She was interested in post-impressionism.
So their style was different; what about the subject matter they chose for their paintings?
In general, the subject matter is very similar to other Depression era artists. They painted the environment, urban scenes, humans, and regional art.
I read that Sadie stopped painting when Leon passed away in his 40s. Was that temporary, or did she eventually paint again?
She stopped being an artist as a career when her husband passed away. And then later on, she remarried a psychologist, so she got into psychology, and eventually merged psychology and art. She became one of the very early art therapists, so she's a pioneer in that field.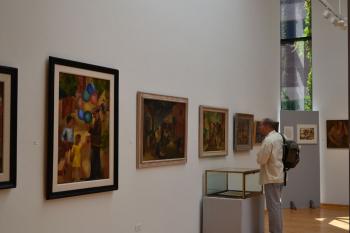 Do Leon and Sadie's pieces look pretty similar, or do they have distinctive characteristics that set them apart?
If you look at her work and his work, they're unique. They are not the same, regarding the style or the subject matter. Sadie's actually more modernist than him. She did more experimentation than he did. She did a lot of still life and nude pieces; more traditional topics of late 19th century, early 20th century. Leon was more into landscapes and open scenes.
There are a few paintings, the ones that depict toys, a circus, and a balloon man, that seem more upbeat and light-hearted than some of the others. Did those serve a different purpose?
Those paintings were probably commissioned for places where kids were present, like schools, post offices, and public buildings.
How many pieces are in the exhibit?
There are about 58 paintings in the show, close to 60.
Do you have a favorite piece?
Hull House Courtyard. I think it's a very representative painting. You see people reading newspapers, which is very typical of that time. Whenever you see people reading newspapers in this era, it's usually people looking for a job, because they're unemployed.
The painting is really representative of the Garlands' whole story too, because it's at Hull House. That was the site of everything that happened. It's also just a very beautiful composition that's done very well. It's a fine painting. 
Why is Hull House such a central part of their story?
There's a whole section in this exhibit that's just about Hull House. They met at Hull House, they got married there (Jane Addams organized their wedding), and they stayed there until he died in 1941. They lived and taught there. That was the deal. They taught painting classes, so they got to live there.
What do the other sections in the exhibit represent?
One section is from Europe, most of them depict France. And then they have all Chicago scenes from when they came back to Chicago during the Great Depression.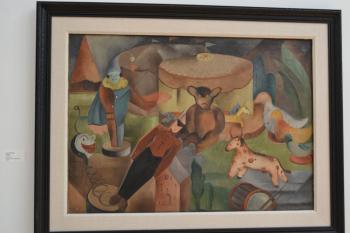 Where did all these paintings come from?
A lot of them came from Eva, Sadie's daughter. Sadie and Leon didn't have any kids, so this is her daughter from her second marriage. Some came from other family members of the Garlands, and also the Chicago Park District, the Hull-House Museum, and the Illinois State Museum.
Who comes to visit the exhibit?
The students start class next week, and a lot of teachers bring their classes here for assignments, whether it's for history, art history, or English. We also get a lot of people from the community.  
Does this setting enhance the exhibit at all?
We have a very large skylight here, and canvases love natural light. It really makes the color much more intense.
The exhibit runs through September 20 at The Koehnline Museum of Art at Oakton Community College's Des Plaines Campus, located at 1600 East Golf Road in Des Plaines.
Interview has been condensed and edited.
View a slideshow of some of the paintings displayed in the exhibit below, along with more information from Harpaz: