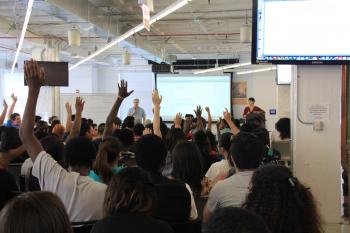 This summer, Chicago students could join city-funded programs in the parks, hone their reading skills, or get connected to a summer job. But for the first time, students could learn about technology, data, and what it means to be a computer programmer. It was called the "Civic Innovation Summer."
Dubbed #civicsummer, the program was created and funded by Smart Chicago Collaborative, a nonprofit seeking to use technology to improve the lives of Chicagoans. They partnered with Mikva Challenge and Free Spirit Media, taking in about 150 students for six Fridays this summer. 
The classes were not meant to turn the students into tech whizzes or give a how-to in creating complex computer code. Students got pointers on the basics, like copy-and-paste, and exposure to concepts like "open source." For some, it was also their first time meeting a computer programmer. 
"I thought programmers were silent, awkward guys who sat in dark rooms and did nothing every day but write programs magically," says Mickey Sharp, a junior at Lincoln Park High School. She was also part of Mikva Challenge's summer program.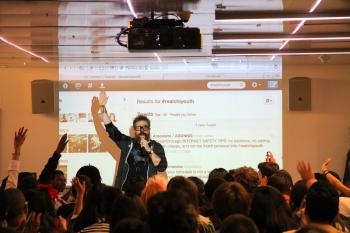 But after hearing guest lectures from tech entrepeneurs and professional programmers, Sharp learned about the people who create the web sites she visits every day. 
"Now I know there are scripts you learn how to write to create these web pages," she says. "It isn't limited to a guy in a dark room playing Dungeons and Dragons...Now being a programmer seems like something I can do."
Chicago High School for the Arts senior Kumari Mason was most impressed by several programmers leading the technology operations of President Obama's re-election campaign. 
"They had these piercings and they looked like real people. I thought they would have suits or something," says Mason, who was also part of Free Spirit Media's summer program. "I never thought they'd be working for President Obama."
The sessions also included lectures on Internet privacy, but Smart Chicago's executive director Dan O'Neil says he was surprised how much students knew already about managing their Facebook settings.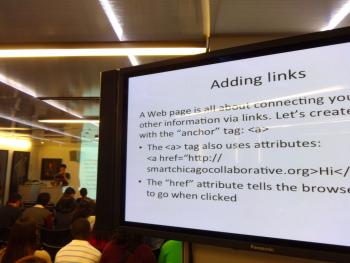 Mason already has a handle on her Facebook and Twitter accounts, but says the Civic Summer course opened her eyes to geotagging--where a user's location can be added to post on social media.
"If you constantly geotag your pictures, people could find out where you are and stalk you," Mason says. "I thought geotagging was just for fun. I didn't know it could get that serious."  
Sharp, Mason, O'Neil, and Civic Summer lecturer Jacqui Cheng, join us on Chicago Tonight with more on the first-of-its-kind program.