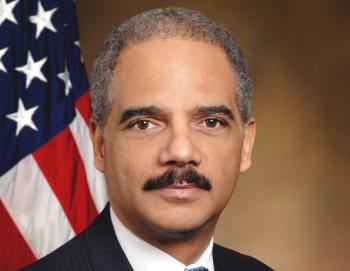 Attorney General Eric Holder has announced a major shift in federal sentencing policy, calling on federal prosecutors to sidestep mandatory minimum sentences for low level, non-violent drug offenders.
"Our system is in many ways broken," Holder told the American Bar Association in San Francisco. "As the so-called war on drugs enters its fifth decade, we need to ask whether it has been fully effective and usher in a new approach."
Noting that a recent study showed black offenders were given sentences that were 20 percent longer than whites for the same crimes, Holder said the disparity was not just unacceptable but "shameful."
"Too many Americans go to too many prisons for far too long and for no truly good law enforcement reason," he added.
Prisoners in the United States make up 25 percent of the world's prison population despite the fact that the country has only 5 percent of the world's population.
In issuing the new guidelines, Holder cites both cost and the country's soaring prison population. Since 1980, the number of inmates in federal prison has jumped almost 800 percent, with more than half of those incarcerated serving time for drug-related offenses.
Joining us on Chicago Tonight at 7:00 pm to help us understand the new guidelines is University of Chicago law professor, Alison Siegler. She is the director of the university's Federal Criminal Justice Clinic, which represents indigent defendants in federal court. Read Holder's full memorandum.