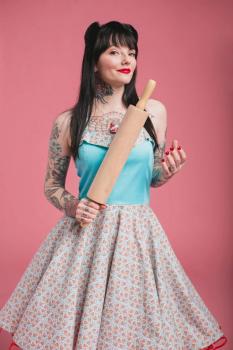 Forget processed soy cheeses and frozen veggie burgers. Being a vegan doesn't mean you're stuck with just store-bought substitutes, or that your food can't have some flair. Chicagoan Natalie Slater has been creating treats for years on her Bake and Destroy blog, with a healthy dose of vegan recipes.
The blog's irreverance has fed its popularity--there's a "Failures" section, and one critic said Slater "takes the light and delicate idea of dessert and straps it into the passenger seat of a '67 Pontiac GTO, forces it to shotgun a Natty Light while outrunning the fuzz as Immortal blasts at an unhealthy volume." Slater joins us on Chicago Tonight at 7:00 pm with some of her favorite recipes from her new book, Bake and Destroy: Good Food for Bad Vegans.
Did you ever work in the food industry?
My first job was at Letizia's Natural Bakery in Wicker Park. It was just a job I enjoyed while I was studying journalism. I was in the back baking, making everything—tarts, breads, cakes. I was a very strict vegan when I worked there. I couldn't eat much of what I was making. Letizia was always concerned I was going to starve, so she always made me special treats that were vegan. I kind of lived off of soup and bread from the bakery--I was 19 and I didn't really have any money.
A lot of the recipes in the book are based off cakes or other things your mom used to make for you when you were a kid--and they were definitely not vegan. When did you become vegan?
I've gone in and out of being vegan. The longest stretch was five years, and that ended because I was traveling a lot and it was really difficult. The reason I went back to it was I saw the movie Forks Over Knives about two years ago. It was right after my dad passed away, and the film really hit me--not just how a healthy diet can improve your health, but how food is capable of healing you. I went home that night and started pitching things in the garbage--all the cheese sticks and the convenience things we had around the house.
I read that you were once asked to pretend to work at a bakery for a reality TV show. What exactly happened?
This was a couple years ago. They wanted to do a show about my bakery, which of course didn't exist. People think Bake and Destroy is a bakery all the time. They still wanted to work with me on a show, so we filmed at Bleeding Heart Bakery, which is now closed.
We worked on it for about six months. At the time, I was doing digital marketing for an e-commerce company, but they had me on the show as the bakery manager. It was really bizarre. I've never been able to watch reality TV ever since. We would film it at 4 in the morning. The bakery carried on its business, and we just filmed around their schedule.
They started feeding me lines, which were really embarrassing, ("We're just a bunch of girls, kicking ass and taking names") and I refused and they eventually gave me the boot. But the show never went anywhere.
You started your blog in 2006 after your son was born. What got you started?
When you're a stay-at-home mom, there's nothing going on besides daytime television and trips to the park. I watched Martha Stewart every morning. At first, I was like, "God, this woman is crazy." But then I started to admire her. She could show you how to make the perfect scrambled egg, and then is out in overalls, showing you how to weatherize your porch. Sometimes people call me the anti-Martha Stewart, but that's not true. It's a punk rock idea to be able to do things yourself. I really admired that about her shows.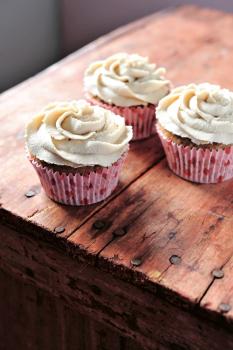 One of the recipes in the book, a banana cupcake, is based on something you ate at Salt and Pepper Diner in Chicago. What was it?
I ate that so long ago, but I still remember it. It was day-old banana bread that they prepared as French toast. You have to put it into context--now everything's over the top, and you can get caramel white chocolate pancakes. But this was 10 years ago, and I had never seen anything like it, and it was obviously delicious.  And baking with bananas is one of the easiest vegan tricks--you can use it instead of eggs and everything comes out all fluffy and moist.
In an interview you mentioned what topics get a lot of views on your site: "If you make anything in a Crock-Pot, with pumpkin or inspired by Dr. Who, people will go nuts for it." I get Dr. Who, there's a fervent fan base online, and Crock-Pots, because it makes recipes easier, but why are pumpkins so popular?
This is where I tap into my marketing background--I can check up on search terms on my blog, so I can see where my posts on Crock-Pots or pumpkins are getting exponentially more popular than my posts about chocolate cookies. I used to work for Lifeway Foods in Chicago, which is a dairy company, and I did a lot of work on their blog, and same thing: we did a whole Crock-Pot series. People generally associate pumpkin recipes with fall, and because fall is the coziest season, especially in Chicago, people look forward to that.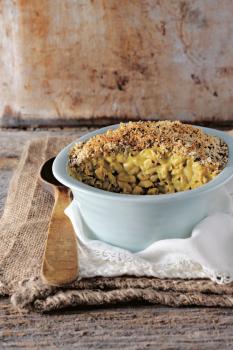 You write about food substitutes beyond seitan and soy meats. What is nutritional yeast?
Nutritional yeast is exactly what it sounds like. It grows on molasses. It's actually a really great source of B12, which can be tricky to get if you're vegan. And just naturally, it's very similar to parmesan cheese in the way it tastes and smells. You can sprinkle it on top of pasta, or you can add some things to it and make it into more of a sauce or a spread. Then, it's almost like a sharp cheddar. I really like it because I don't like a lot of the cheese substitutes you can buy in the store; they have a lot of oil or additives.
You said a few years ago that the "amount of cupcake bakeries in Chicago make me want to stab my eyes out." Still the case?
There are a lot and I don't really go to any of them. It was exciting at first, but now there are so many. I feel there should be more donuts. I go to Los Angeles a lot for work, and I'm always blown away that there's a donut shop in every strip mall.
You actually make a donut in the book that has tofu in the batter--is that for texture, or to sneak in extra protein? (Check out the recipe below)
The tofu there is sort of a binder--so it's replacing an egg. It's holding everything together But I really like to bake donuts: you're not frying them so they're healthier, and they don't have yeast so they don't go bland as quickly on you. My son is excited to eat a donut for breakfast, and I've managed to sneak a few good things in there.
Interview has been condensed and edited
Whole Wheat Choco-Coconut Donuts

This isn't your typical chocolate donut. Made with whole wheat flour and tofu, this donut could serve as an actual breakfast, not some shameful thing you grab on your way to work. It's fluffy and light, almost like German chocolate cake. For an even more indulgent donut, add ½ cup (86 g) of chopped dark chocolate and ½ cup (55 g) of pecans to the batter.

Makes 12 donuts

Ingredients
2 cups (240 g) whole wheat pastry flour
¼ cup (29 g) unsweetened cocoa powder
1 teaspoon baking powder
½ teaspoon baking soda
½ teaspoon salt
2 tablespoons (30 ml) canola oil
¼ cup (60 g) pureed tofu or vegan soy yogurt
½ cup (75 g) brown sugar
¾ cup (175 ml) coconut milk
½ cup (120 ml) soy milk
1 cup (93 g) shredded coconut

OPTIONAL CHOCOLATE GLAZE:
1 cup (170 g) chopped vegan chocolate or chocolate chips

Directions
Preheat your oven to 350°F (180°C). Grease your donut pan.

In a large bowl, sift together the flour, cocoa powder, baking powder, baking soda and salt. In a medium-size bowl, whisk together the oil, tofu, brown sugar, coconut milk and soy milk. Stir the coconut mixture into the flour mixture just until incorporated. Fold in the shredded coconut and fill the donut cavities half-full. Bake for 12 to 15 minutes, or until the tops spring back when lightly touched. Let cool in the pan for 5 minutes, then transfer to a wire rack to cool completely.

To make the optional chocolate glaze: Place about 2 inches (5 cm) of water in a large pot and place over medium heat. Place the chocolate into a large, heatproof bowl and place the bowl over the pot of hot water. Stir as the chocolate melts, then remove from the heat. Dip each donut into the chocolate and set on waxed paper. Let rest until the chocolate sets, about 10 minutes.