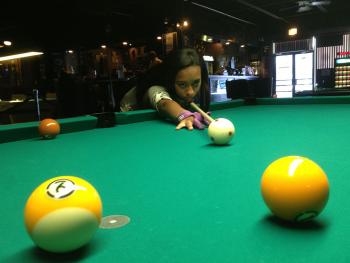 Karsyn Terry is 14 years old, and is about to enter high school. Her father is a software architect -- and her pool coach. Patrick Terry may be his daughter's coach, but she got to the game before he did. 
"One day, she comes home with a trophy, and then I think it was some weeks later, she came home with another trophy, and I'm like, 'hey, wait a minute, what's going on?'" said Patrick.
Karsyn was 8. The trophies were from a park district after school program, and it sounds like the competition at that stage may not have been so tough. 
"Some people would just use their hands to roll the ball around, but I actually used the stick, and I played a lot more than everybody else," she said.
Patrick got a pool table for the basement and he started to learn too. At first, he just saw it as a way to spend time with his daughter, but pretty quickly it became more than that.
"With my personality, and I think with her personality as well, pool just happens to be one of those games that once you start getting it, it's very, very difficult to stop wanting to get better," he said.
Patrick has become a pretty serious player himself, and stays a few steps ahead of Karsyn so he can train her.
Now, instead of just playing, they run drills -- and more drills. Karsyn admits that it did take some of the fun out of it.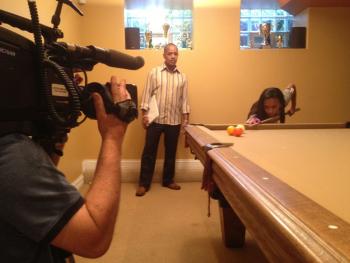 "I wasn't used to having to practice all the time, and just get on the table and really be serious about it," she said. "Instead, I would usually just be shooting around. I wasn't taking my time, I wasn't focused. But, as he became my coach and started to get better and better than me, it really became a serious thing to do."
"We bump heads. We bump heads about the practicing," said Patrick.
"Sometimes I don't want to practice because maybe I just want to relax or something, but I know that it's necessary for me to do what I want to do, which is just to get better and win the tournament," said Karsyn.
Last year, at age 13, Karsyn entered a national 14-and-under tournament and took second place. That brought a lot of offers from pros who wanted to coach her. But that costs money, and Karsyn said she'd rather train with her dad.
"It's easier to talk to him and connect with him than somebody else that I don't know," she said.
"We finally just decided to keep it in-house, keep it father and daughter," said Patrick. "I do know that if she keeps up with the pace that she's at right now, she is going to surpass me. I know this. And so, I always have in the back in my mind, is she ever going to go look for another coach when she's done with me or is she ever going to be done with me? I hope not."
Karsyn says that much of what she's learning about pool applies outside of the game.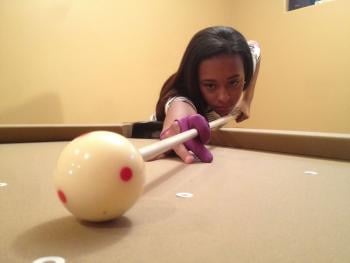 "A lot of the advice that my dad gives me also seems to relate in just real life situations, like he'll give me advice during my tournaments, like I have to keep my emotions under control and that comes in with life all the time," she said.
"When you're working in the future on your job, someone's going to do something that you dislike. How are you going to deal with it?" said Patrick. "And pool has been the vehicle for us to come up with solutions on how to deal with adversity or difficult situations."
John Lavin owns the Red Shoes pool hall where Karsyn and her father play. He says that, for her age, Karsyn's game is outstanding. 
"Any of the pro players that come into my place that have just seen her from afar say her fundamentals are absolutely perfect," said Lavin. "And that's obviously where all the rest of your game comes from is having good fundamentals."
Historically, pool has always had its seedy side: gambling, alcohol, organized crime. Patrick says he doesn't worry about that a bit.
"If anything, I tell Karsyn to be a role model. You're at a level right now where you can officially call yourself a role model," he said.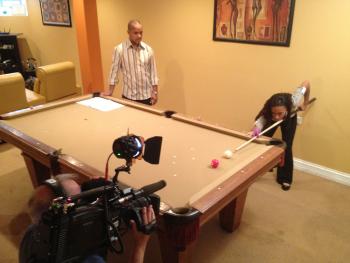 Karsyn Terry is not the only 14-year-old girl competing in national tournaments, but she is the only African American girl - or boy - to make the finals in the 24-year history of the tournament. She and her dad say that's not the reason she got into this, but it is an extra source of motivation and pride. 
"It feels really good because, after all that time of practice, you get to see the result and you get to see what that hard work did," said Karsyn. "You get to see exactly like, this is what I've been doing all this year. This is what happens when you practice and work hard like this."
Despite her pool prowess, Karsyn is not thinking about a full-time career as a pool player when she grows up. She plans to be a surgeon. And even her billiard-loving father approves.
Karsyn Terry will compete in Las Vegas this weekend at the Billiard Education Foundation's 25th Annual Junior National 9-Ball Championships.