Iconic photos of rock stars, yoga at the zoo, and a Parade of Nations at an ethnic arts festival; Chicago Tonight knows what's going on this weekend.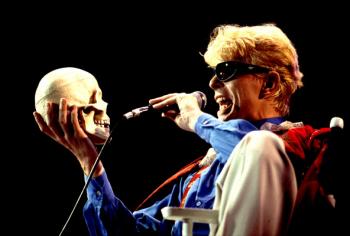 Shutter to Think: The Rock & Roll Lens of Paul Natkin at the Elmhurst Historical Museum
Paul Natkin, one of Chicago's most accomplished rock and roll photographers, has taken photos of popular musicians including Bruce Springsteen, John Mayer and Madonna during the last 37 years. In the '80s, he shot Prince's birthday party, and went on the road with the Rolling Stones. This summer, the public has a chance to see those photos, and hear the stories behind some of the unique moments he's captured over the years. In May, an interactive exhibit of his photo collection opened at the Elmhurst Historical Museum. The exhibit, which is called Shutter to Think: The Rock & Roll Lens of Paul Natkin, tells the stories behind many of Natkin's photos of rock icons. Several of the images, such as one of Pete Townshend, are about 10 feet tall and accompanied by a video interview with Natkin. The exhibit, which is free and open Tuesday through Sunday from 1:00 pm - 5:00 pm, runs through August 25. An additional mini-exhibit in the 2nd floor gallery featuring Paul Natkin's photos of Disco Demolition Night is also open until August 4. For more information about exhibit, click here. Watch Natkin's appearance on Chicago Tonight and read an interview with the curator of the Elmhurst Historical Museum.
Elmhurst Historical Museum
120 E. Park Ave.
Elmhurst, IL 60126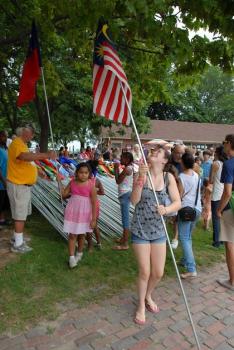 The Evanston Ethnic Arts Festival
This weekend, you may end up feeling like a world traveler if you decide to head to Evanston for the 28th annual Evanston Ethnic Arts Festival. Attendees will experience the food, dance, and traditions from a wide array of cultures. The lively celebration features art from more than 100 countries, family-friendly activities, vendors, and performances. Sponsored by the City of Evanston Cultural Arts Division, the festival also includes a flag ceremony, known as the Parade of Nations, where more than 200 countries' flags will be represented. Live music from a variety of artists including  the Occidental Brothers Dance Band International --who play Central and West African dance music -- will also be a part of the festivities. The Evanston Ethnic Arts Festival, which is free, takes place on Saturday and Sunday from noon until 7:00 pm at Dawes Park, located on the lakefront between Dempster and Church Streets. Join in on a celebration of arts and cultural diversity, and a nice summer day on the lakefront. For more information, click here.
Shake off a stressful work week with a relaxing yoga session at the Lincoln Park Zoo. The outdoor classes are a great way to squeeze in a weekend exercise session, while enjoying the beautiful scenery that the zoo has to offer. This year, a Sunday morning class has also been added to the schedule. Classes, which are sponsored by Walgreens, are geared toward beginner and intermediate participants, so novices should not be afraid to come out and give it a try. Classes run through September, and take place on Saturdays from 9:00 am – 10:00 am, and Sundays from 10:00 am–11:00 am. Yoga class attendees can pay for monthly, season or unlimited passes that cost from $55 to $400. However, you can also just pay a drop-in rate of $20. Classes take place on the Nature Boardwalk at Lincoln Park Zoo, and participants are encouraged to bring their own water and mat. For more information about yoga classes at the zoo, click here.
Lincoln Park Zoo
2001 N Clark Street
Chicago, IL 60614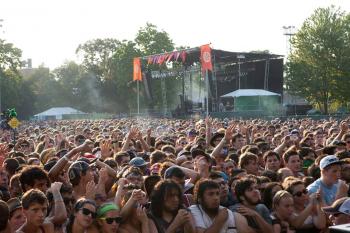 Pitchfork Music Festival
Discover new and emerging singers and bands at this year's Pitchfork Music Festival in Union Park. An eclectic selection of over 40 bands will perform at the festival, which is expected to see about 50,000 attendees. The three-day festival, which has been around since 2006, is a great way to spend a summer day outside, listening to a diverse variety of live music. Chicago Tribune music critic Greg Kot weighed in on this year's lineup, listing Iceland native Björk, art-punk trio Metz, and Solange, an R&B singer and sister of Beyoncé Knowles, as must-see acts. Tickets, which cost $50 for a one-day pass, can be purchased online. To learn more about the lineup, click here. To purchase tickets, click here.
Pitchfork Music Festival
Union Park
1501 W. Randolph St.
Chicago IL 60607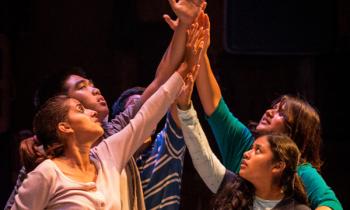 Home/Land at the Goodman Theater
As a result of its popularity, The Albany Park Theater Project (APTP) is now presenting their popular production, Home/Land, at the Goodman Theater. Created and performed by APTP, Home/Land presents a story about immigrant families striving to stay together and make a better life in the land they've come to call home. In June, Chicago Sun Times theater critic Hedy Weiss referred to the production as "a heart-wrenching, powerfully envisioned meditation on this country's ongoing quandary about immigration." The production, which is presented in English with Spanish subtitles, is 1 hour and 45 minutes with no intermission. The show runs through July 28 in the Owen Theatre. Tickets for the show cost from $10 to $25. To learn more and to purchase tickets, click here.
The Goodman Theatre
170 N. Dearborn St.
Chicago, IL 60601