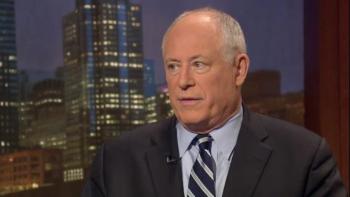 Gov. Pat Quinn suspended the salary of Illinois lawmakers for failing to reach a compromise on pension reform. Quinn issued a line-item veto of House Bill 214 citing in a news release Wednesday "years of legislative inertia on pension reform while the state's unfunded pension debt grows by millions of dollars a day."
Quinn also said he will not accept his own salary until legislators send him a pension reform solution.
"In this budget, there should be no paychecks for legislators until they get the job done on pension reform," said Gov. Quinn. "Pension reform is the most critical job for all of us in public office. I cannot in good conscience approve legislation that provides paychecks to legislators who are not doing their job for the taxpayers."
Illinois General Assembly members earn $67,836 per year, along with additional stipends for leadership positions, both of which were eliminated.
"This is an emergency, the taxpayers of Illinois are waiting and there is no excuse for further legislative delay," said Quinn. "The taxpayers cannot afford an endless cycle of delays, excuses and more delays."
Listen to Quinn's full announcement and the Q&A from the news conference in the audio attachments below. Read official statements in reaction to the news:
Rep. Elaine Nekritz, member of Pension Conference Committee:

"The governor's actions today do nothing to move us toward a solution to our pension crisis and only serve as an unnecessary distraction. Each of the conference committee members is committed to a compromise in the near future that addresses this problem in a meaningful way. Our work will continue unimpeded. We would urge the governor to join us as we push to the finish line to really do what is right for Illinois."
Bruce Rauner, Republican candidate for governor:

"This would be a good move by Pat Quinn if it wasn't just another political stunt.  The truth is, Quinn, Madigan, and all the political leaders in Springfield have been failing our state for a long time.  The pension crisis won't be solved by political stunts, it will be solved by bold leadership that's willing to take on the powerful interests in Springfield. We won't get that from the crowd in charge there now. If you want to enact real pension reform, you need to focus on the folks with the real power - the government union bosses - but the career politicians are all afraid of them."
Bill Daley, Democratic candidate for governor:

"It is obvious to everyone by now that this governor is long on press conferences and short on results.  This media sideshow doesn't get things done, in fact it stands in the way."
Sen. Jim Oberweis:

"Threatening to withhold legislative salaries until pension reform is passed is a high-risk decision by the Governor, one that can be easily overridden by the Legislature. But – to give credit where credit is due – at least he is doing something to focus attention on the issue.  If a legislative pay freeze is upheld, there could be nothing more effective to get the players engaged and get this pension mess resolved.  However, the risk is that legislators might enact a plan that would do little to solve the problem in order to again start receiving their pay, instead of passing comprehensive reform like Senate Bill 2026, which would permanently fix the problem."
Judy Baar Topinka, Illinois Comptroller:

"This morning the Governor notified my office of his intention to eliminate the salaries and stipends of members of the General Assembly. While I understand and appreciate the Governor's focus on pension reform, real questions have been raised about the legality of his action. Specifically, Section 11 of our State Constitution states that 'changes in the salary of a member shall not take effect during the term for which he has been elected.' Therefore, I have requested a legal review which should be completed before lawmakers are scheduled to receive their next paychecks on August 1, 2013."
 
Watch Chicago Tonight at 7:00 pm for more details from Paris Schutz.
Audio Attachments:
Quinn Announces Suspension of Lawmakers' Pay