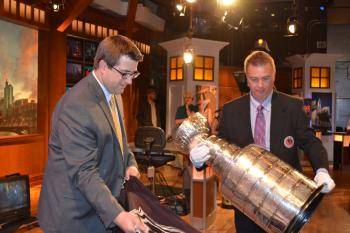 The Stanley Cup visits WTTW studios! View a behind-the-scenes slideshow of the Stanley Cup's visit to our studios.
The Chicago Blackhawks are celebrating their second Stanley Cup Championship in four seasons. How did the organization manage to make it back to the top of the NHL after losing so many players from the 2010 team? And what moves have been made in the last few weeks in an effort to keep the team competitive next year and beyond?
Blackhawks President John McDonough and General Manager Stan Bowman join us on Chicago Tonight at 7:00 pm to answer those questions and more.