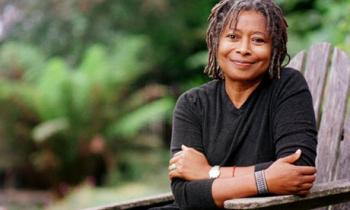 Her most famous work may be the novel The Color Purple, but Alice Walker says she is a poet at heart. Walker won the Pulitzer Prize for The Color Purple in 1983, the first African-American woman to do so. Now the poet-turned-novelist has two new books, of poetry and prose. She joins us on Chicago Tonight at 7:00 pm. 
Walker's latest books are The Cushion in the Road: Meditation and Wandering as the Whole World Awakens to Being in Harm's Way, a collection of essays, and The World Will Follow Joy: Turning Madness Into Flowers, a book of new poems.
Walker dedicates The Cushion in the Road to the Fidel Castro and his lover and co-revolutionary Celia Sanchez Manduley, calling them spiritual guides and "one of the most inspiring power couples of the twentieth century."
She says she learned about the pair after reading a biography of Manduley.
"It's an incredible love story, but it's a different kind of love story. They were really revolutionaries," Walker says. "The culture wanted them to be married, for instance, because they spent so much time together, and she refused refused to marry him because he was a womanizer, like most of them, and she said no. But she built a space onto each of her dwellings for him, so that they lived together for all those years, until she died."
In one of her essays, Walker lauds Castro and Manduley for having "the highest moral character," and defends Castro's regime from criticism that it stifled political dissent and free speech, and killed political opponents.
"Think of all the people shock and awe killed in Iraq. I don't think there's anyone in our government who can say one word about anybody else's brutality," Walker says. "They did very little murder and mayhem, partly because of Celia. She wouldn't have it."
But it is Walker's writings on the Israeli-Palestinian conflict that has attracted condemnations from the Anti-Defamation League and the Simon Wiesenthal Center. Walker, who has called for an artistic boycott of Israel, says America and Israel are "in cahoots" to subjugate Palestinians.
"It is in no one's interest to let any nation, no matter its history or claim to sympathy, further terrorize us. And that, I feel, is ultimately, what I am objecting to: the terrorization of the planet by the United States and Israel," she writes in The Cushion in the Road. "These overly armed countries are attacking people who cannot possibly put up an equal fight, which makes attacking them sadistic."
The Anti-Defamation League called those essays "infected with anti-Semitism," which Walker says is false and misses the point.
"Why use this kind of language now, when actually the whole Middle East is Semitic?" she says. "Those peoples are Semitic peoples, and in fact it's Jews who often are not Semitic people. They are not even from that part of the world."
She says criticism over her beliefs is nothing new, and that she remains undeterred.
"I was totally trounced on for writing The Color Purple. I was really abused verbally a lot for tackling female genital mutilation," she says. "I go where my heart says I need to be."
Does she think writers and artists should be fearless in the face of their critics?
"Or indifferent," she says. "I lived in Mississippi you know for seven years and we were threatened by the Ku Klux Klan. They left cards on our doorstep because I was interracially married to a Jewish man, and that was illegal. But there's something in the human spirit that says, this is right or this is not right."