The 1960s gave birth to a host of art movements that reflected the aspirations and identities of communities, groups and people who struggled for their place in the American Dream. Two Los Angeles, Mexican-American based artists who found inspiration in the struggles of the Chicano movement, Chaz Bojórquez and John Valadez, have work currently displayed at the National Museum of Mexican Art. We get a preview on Chicago Tonight at 7:00 pm.
Bojórquez will be speaking at the museum in Pilsen on May 16, beginning at 6:00 pm. Valadez's exhibit runs through August 11. View a slideshow previewing the artwork on display.
Read an interview with Bojórquez, who reflects on his 44-year career as a graffiti artist.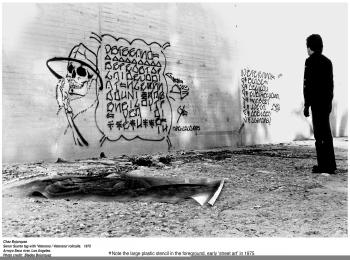 Tell me about the neighborhood you grew up in and what the social climate of Los Angeles was like in the 1950s and 1960s.
I was born and raised in northwest L.A. and my heritage is Mexican-American. During the '60s, I was trying to find my identity: the Vietnam War was going on, the Civil Rights movement was happening, and there was a lot of freedom of expression. I became a Chicano, which is a Latin American person who is socially conscious.
What I saw all around me as a child was graffiti, done in a style that is unique to the west coast called "cholo," which means gangster. The style began in the '40s with gangsters marking up and defining their territories. It's an Old English letter face; it's a very prestigious letter face. It was on the title of the L.A. Times, the Constitution, graduation certificates and more. So that was the premise of our west coast style. It's different from the east coast style that appeared about 25 years later. A big difference is that in New York, it's a lower-case script and it mostly talks about the individual. They tag all over the city and they never claim their ethnicity. It doesn't matter if they're Puerto Rican, black or white. In L.A., we only use black and all caps, and it's about the group. We do a roll call that defines our community. In the west, it's all about the group.
Describe your first experiences with graffiti. I understand that you started out tagging old concrete river beds around your neighborhood.
My very first tags were in my own neighborhood. We have a river bed in Highland Park and all the walls are concrete. It makes for a fantastic art gallery. Some of the art there dates back to the 1940s' L.A. riots. That was where I first saw graffiti and decided I wanted to be a graffiti artist.
When I was growing up, I combined an Asian influence in my tags by using a brush which is similar to a felt marker. It makes thick and thin lines like a calligraphy pen. I combined the spirit of the Asian-style calligraphy and the strength of the cholo Old English to create my own style. My first tag was in 1969. I believe I'm the longest writing and oldest graffiti writer in the world.
Had you experimented with other forms of art before? What about graffiti appealed to you as a way to express yourself artistically?
As a young man, I went to art school at the Chouinard Art Institute. I was learning figure drawing and oil painting, but at night I would go out and do my graffiti. It took 10 years for me to realize that graffiti was art. I had always kept art and graffiti separate, and most others did too. As I grew older, I realized art is an expression of self-identity and there was nothing else that satisfied me more than graffiti. So, I've spent my life learning about graffiti -- its myths -- and learning how I could transform something that was considered bad into something good.
Early on, who did you learn from and who influenced your craft?
In the beginning, there were only gangsters. I was the only one who thought of it as art and I was the first in L.A. to use a stencil to tag graffiti. That stencil is called Señor Suerte - "Mr Lucky" - because he has his fingers crossed and he's smiling at you. That's been my signature tag since 1969.
About 30 years ago, it was adopted by the local gang in Highland Park called the Avenues, and now there are lots of men tattooed with that skull. They say that if you have that tattooed on your body and you get shot, then you won't die.
Graffiti, more than many other art forms, is about developing a particular style that stands out – your tag. But as a mostly urban art form, with people exposed to so many competing messages, sounds and colors, that can be difficult. What techniques do you use to make sure that your artwork and message is noticed?
The only way that I've been able to survive is to be true to my art form. I only use black, grey and white - never color. If I'm able to make my paintings reflect the pride that I have for my community, then I feel my art can be successful. Not using color is part of the tradition in the cholo style. But to survive today, you have to be unique and profound.
Do you still tag on the streets? And have you ever had any run-ins with the law because of your graffiti?
On occasion, I still tag on the street, but it may not be with a felt marker. I've haven't had any run-ins with the police. Politically, I've been in City Hall trying to get rights for graffiti artists, but I'm one of the lucky ones who haven't been in jail for it. I'm not a gangster either, but my cousins were gangsters.
Doing graffiti has been really hard and difficult throughout my life. For many years, it wasn't even considered art. Later on, the resistance was from other graffiti artists. Nowadays, if you don't have your own shoe style, prints or Facebook, you don't even exist. So the walls have changed, but I'm still competing.
How has your art changed and evolved over the years?
It has changed just through a maturing process. As a young man, I just wrote about me, so all my tags were just my name. Then I started talking about my friends and my community. I've gotten more inclusive by writing roll calls, and writing about L.A. and the U.S. I've grown with my graffiti.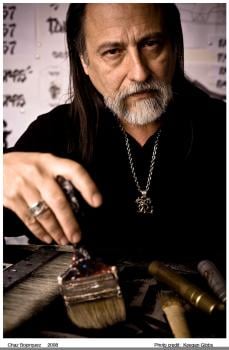 After all these years, why do you still do graffiti?
It's an addiction. That's sounds bad but it really is an addiction. Once you start, it's very difficult to stop. My motivation is that my graffiti still speaks. I can travel the world, and from L.A. to Milan, people know the style and respect it. I'm lucky to still be a player.
Is graffiti more culturally accepted and appreciated than it was just a few decades ago? If so, has this cultural shift impacted your artwork?
My ethics of how I paint and what I paint has never changed, but the audience has changed to a world audience through art fairs, etc. I get invited all over the world to compete and to write with other graffiti artists who are sometimes 20 or 30 years younger.
I find graffiti is a competitive sport today. It's more competitive because it's now called "street art." I have to compete with the muralists now, and the money aspect of it has created its own heroes and legends. So, it's extremely competitive now, not by style but because of marketing. I'm really surprised that this has developed because when I started, it was never about money or fame. I feel extremely lucky to still be in the game. My satisfaction is not collecting a paycheck, but still writing after 44 years. My enthusiasm has not changed one bit since I was 18 years old.
Interview has been condensed and edited.