Former child prodigy and renowned violinist Rachel Barton Pine has performed with many of the world's most-prestigious orchestras, but she is far more than just a classical musician. A heavy metal fan and member of her own rock outfit, Barton's experiences and interests are as varied as her interpretations of the classical violin repertoire. Inspired by the birth of her own daughter, her latest project titled Violin Lullabies is a recording of 25 of the world's greatest lullabies, as interpreted and performed by Pine. She joins us on Chicago Tonight at 7:00 pm to perform and to discuss her new album.
Mark George, President and CEO of the Music Institute of Chicago, and Andrew Patner, classical music critic for the Chicago Sun-Times and critic-at-large for 98.7 WFMT Radio Chicago, weigh in on the impact of Pine's musical career.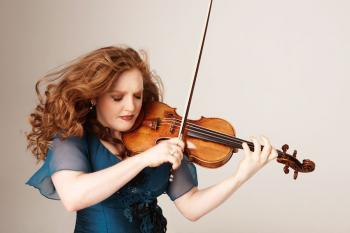 How long have you followed Rachel Barton Pine's career?
MG: I've only known her personally since I came to Chicago three years ago, but I knew of her playing as much as 20 years ago. What strikes you most about her is her great passion and charisma for what she's doing.
AP: I've been following her since she and her sister were young phenomena associated with various youth orchestras. She was a regular on our programs at WBEZ when I was there from '90 to '97, and I've known her one-on-one since the early '90s. You could see from the beginning that her interests stretched far beyond the violin. Her big claim to fame, in addition to her youth, was that she was -- and still is -- into heavy metal. She was into ACDC and would show up to play Bach on our show wearing a bandanna.
How would you describe her style as a performer?
MG: She's a great combination of intellect and fiery passion. Watching her, you can tell she knows exactly what she's doing, but it all seems so free.
AP: In a non-negative way, she's very self-assured. She has an authority and seriousness on stage, but in a good way. You get the sense that this is a woman who has something that she believes in, and is going to share it with you and connect with you. I've always had a sense that Rachel is a person who has many sides. Most classical musicians are not also improvisers and vice-versa. Most heavy metal people are not also classical musicians. She can play extremely elaborate music and she can improvise, but she's not a show-off.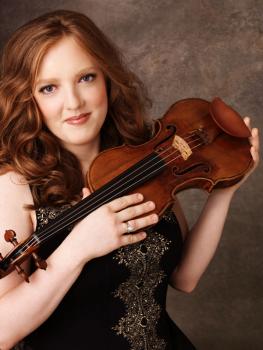 What differentiates her musical style from other performers? Obviously her interest in heavy metal is quite unique in the realm of classical music.
MG: That's just a small indicator of how open her mind and ears are. A great musician should not only know the field that they master but should understand the world around them. Rachel borrows from musical genres from bluegrass to metal and jazz, to relatively obscure music from the 13th and 14th centuries. She draws from each of them what is useful and appropriate for whatever she happens to be playing.
AP: I think some might say that the strength of heavy metal is reflected in her strong presence on stage. Then again, it might just be coincidence. What strikes me most is the level of commitment, fun and devotion apparent in her playing. She's somebody who really connects. There are probably some who find her too direct or too solid, but that's taste.
Pine grew up in Chicago, in a household that saw its share of financial struggles. Looking at Chicago's home-grown, classical musicians, how would you describe Pine in terms of prestige and impact?
MG: I think her upbringing is part of the reason why she is so persistent and hardworking, but I think the greatest impact of her beginnings has been on how she treats other young musicians. She is a mentor to many young musicians who are growing up in similar circumstances to what she experienced. With very young violin students who have faced horrible financial setbacks and difficulties, Rachel has helped out personally with her time and resources. Some of these students have gone on to enjoy tremendous success and Rachel has been a big part of that. I think that may end up being a big part of her legacy, and from our institute's perspective, she's been a great friend and supporter.
AP: She's from here and chose to stay here. There are many fine musicians who grow up in Chicago, and move away to go to one of the academies based on the east or west coast. Rachel is someone who is very devoted to the city. She works closely with Cedille Records, which is a Chicago label for Chicago musicians. She's an advocate for music and she's an advocate for Chicago. For her, being in Chicago must be a real commitment.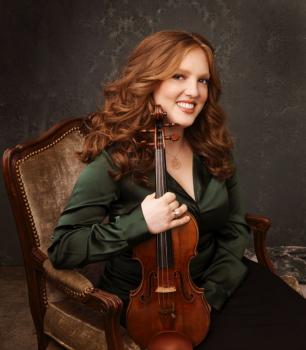 Barton has been in the spotlight since a young age. How do you think that kind of constant public exposure has shaped her career and music?
MG: There are a lot of sad endings to child prodigies, but Rachel is the template for how to do it correctly. She has never stopped learning and exploring as a person. She was a child prodigy but is now an adult renaissance woman, and is now setting an example for how to be a great mother and a world-class traveling musician. She draws on every experience, and of course becoming a mother is a profound one. She has the talent and intellect to draw on those experiences to produce art.
AP: Prodigies are fascinating and complicated. In music, we see a lot of them because it is one field where you can be a prodigy when you're very young and still go on to have a career. There are some who make it and others who burn out. Rachel is one of the most remarkable people I've observed because she has been able to make this seamless transition to adulthood. I couldn't imagine doing any of the things she's done. She's obviously emotionally, artistically and personally, a person of great resilience.
Watch Rachel Barton Pine's performance of Rêve d' Enfant (Child's Dream) by Eugène Ysaÿe with album collaborator and Music Institute of Chicago alum, Matthew Hagle :
In 1990, then 15-year-old Rachel Barton performed at the Illinois Young Performers Competition with the Chicago Symphony Orchestra. Watch the web exclusive video profile and performance:
Listen to two selections off of Violin Lullabies in the Audio Attachments below: Wiegenlied (Cradle Song) by Max Reger and Rêve d' Enfant (Child's Dream) by Eugène Ysaÿe, both performed by Rachel Barton Pine.
Audio Attachments:
Wiegenlied (Cradle Song) by Max Reger, from Rachel Barton Pine's Violin Lullabies.
Rêve d' Enfant (Child's Dream) by Eugène Ysaÿe, from Rachel Barton Pine's Violin Lullabies.