A new documentary takes you deep inside India's clean water crisis through the eyes of Northwestern University students struggling to figure out how they can help – or whether they can at all. Water Pressures premieres on WTTW11 at 9:00 pm. We get a preview on Chicago Tonight at 7:00 pm.
We spoke with Andrea Hart, a Northwestern alum who traveled to Rajasthan as one of the young people profiled in the documentary. Read about her experience in our Q&A:
How did you first find out about the global water crisis and become involved with the Water Pressures documentary?
With the water crisis, I had become aware of it in college. I was reporting abroad in South Africa, and the water issue was being addressed on a global scale at an event I was reporting on. I took a job after graduating in 2009 with Circle of Blue, which brands itself as the world's premiere water news agency. I was working for them and that's when the trip opportunity and reporting project came up. I asked if I could participate on the trip as a Northwestern alum and I was able to go. We went to Rajasthan, India in March 2010. We were there for about two weeks.
Part of the experience in India allowed you to shadow a villager in the Thar Desert in Rajasthan. Can you tell me about that?
I wanted to cover gender and water issues so I was partnered with a female leader in her rural village. It was interesting because she was the first female to be elected a village leader and reporter for her community. She was the person other people would go to about water issues, and she would meet with nearby village leaders to discuss water issues.
It was amazing to see this woman, who was I think 55 at the time, and she had 15 kids. And was nonstop working all day. She would take an occasional break here and there, and people would come and gather and talk with her. But she was always cooking and doing something in addition to being a village leader.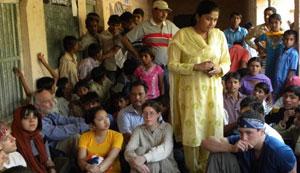 Did you participate in the collection of water that girls and women do daily?
Yes, I went with some of the girls to collect water and carry it on my head to get that experience. The village definitely had a water scarcity. The village wanted to have closer water resources. Distance-wise it was about a 10-minute walk to get water, whereas before it would take them the entire day or half a day to walk there and back, to fetch all the water they needed for that day. Seven girls went with me to get the water so we could get all the water we needed in one trip without having to make two trips.
What did you learn from the village experience?
Gender issues there are very real and more in your face in those areas, but at the same time you see a lot of progress environmentally because they have to conserve. There is no choice. In developed worlds, going green is a luxury, and is oftentimes considered trendy. There, it's a way of life and they are doing well with that. I think it's false for people to look at India as deficit-based and say, 'oh, they are poor people.' Yes, the situations can be dire at times, but they are doing the best they can to make it work. There are a lot of lessons that people in the developed world, that don't have that water scarcity, can learn from them.
In the film, there was a divide among students at a certain point where some wanted to DO something and take action, whereas the rest of you seemed intent on learning as much as possible. You mentioned that the people in India would want you to get the problems RIGHT first instead of coming up with solutions. Can you explain that a bit more?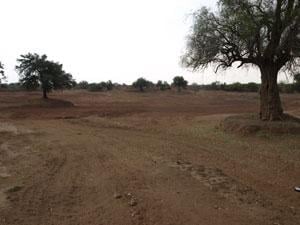 I see that all the time. I work as a youth media nonprofit person now and there's just some people who come into situations, and they look at it as deficit-based. There are problems here, let's fix it from the top-down standpoint. I think that's an old school way to do foreign aid. We come from a developed country. They swoop in and assume that the way we fix problems here is something they can easily export. The step is missing of meeting people where they are at. Like going to the communities and trying to help by talking to community members about issues day to day; being respectful and giving the opportunity for them to speak for themselves.
A group of us recognized that this is beyond us; we are really only there for a short period of time. We needed to understand it and learn more about it. It is a global issue but one with local solutions. What it looks like in Chicago is not what it looks like in Rajasthan. We wanted to understand and take time versus those that wanted to take actions right way, which I feel in a way is ignorance.
What is the ultimate takeaway from your trip to India?
I think what I take away from it and what I continue to pay forward is lessons learned from the Jal Bhagirathi Foundation (JBF). I think they are really effective at dealing with problems that at times can be insurmountable. Now, I work full time at Free Spirit Media on the west side of Chicago where the youth face gun violence every day. The approach is the same. You have to do it block by block and have faith, whether it's village by village or block by block. It's the only solution to have stable, long-term results.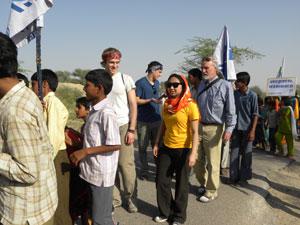 How did your trip to Rajasthan impact your current career?
I took a local turn. I do believe that if you live somewhere, and working where you live is a more effective way of getting things done, especially with social justice issues. It reaffirmed where I was going. I had an idea, and seeing it firsthand there reminded me of what I wanted to do and what I was committed to doing.
Are you more conscious about water conservation now? How are you spreading the message to others?
I don't buy water bottles at all. I think it's a waste of money and it damages the environment. I'm really conscious of how I use water in my home in doing laundry and cooking, and all of that. I try to add tidbits here and there to my youth about being environmentally conscious.
What are your suggestions for what individuals can do to combat the water crisis?
Really try to understand where you're at in your community related to this crisis and figure out steps you need to take to work through your own water issues, and how you can get involved on a global scale. You can get energy and sustenance from many things, but water is it. There's no substitute for water, and everyone needs it. Figure it out on a local level, so when you come to the table you are respectful and mindful where they're at, so you can find solutions that everyone can relate to.
Interview has been condensed and edited.
Water Pressures airs on WTTW11 at 9:00 pm. Watch the trailer: