A Family Company
Cable TV, over the years that we were in it directly, was a growth machine.
The internal organic growth rate of the business exceeded the cost of
money. And if you do any kind of present-value-of-cash calculation, that
means that the equity values are nominally infinite. Which means it has
high returns to equity, because you can borrow money against a growing
cash-flow stream, and as long as your growth rate's faster than your cost of
money it's a wonderful business.
—John Malone, interview with Ken Auletta, October 16, 2002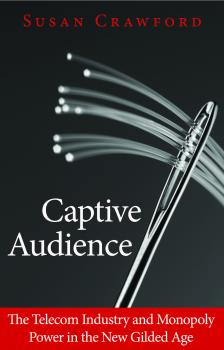 Cable has won the race to sell services to Americans seeking highspeed Internet access. People are dropping DSL service delivered over metal phone lines in droves, as those services prove increasingly unable to compete with cable for the kind of speeds that households and businesses demand. And wireless Internet access does not and cannot keep up. Wireless is great for mobility—Americans love their smartphones—but no one starting a business would depend on the wireless data speeds provided by Verizon and AT&T. Wireless is a complementary service, and only people who have no other option (usually rural, minority, or poor Americans who have no wired access where they live or work) are likely to rely on it as their sole route online. Verizon's FiOS fiber-optic Internet access service is as good as cable (better, in fact, because it allows for uploads that are as speedy as downloads), but it is available to only 14 percent of U.S. residences; from Verizon's shareholders' perspective, it is too expensive to dig up traditional phone lines and replace them with fiber.
Cable, on the other hand, has exploded into an enormous market: 80 percent of Americans buying a wired high-speed connection these days sign up with their local cable incumbent. The FCC has said that for 75 percent of Americans the only choice for globally standard high-speed Internet access will soon be the local cable guy. Comcast is adding subscribers at an accelerating pace at the same time that its revenue per user is increasing. At this rate, Bernstein Research predicts that about 70 percent of all wired Internet access subscribers in America will be cable customers by the end of 2015. And as of 2012, Comcast was getting the lion's share of these new accounts: more than four hundred thousand new subscribers for wired high-speed Internet access per quarter, amounting to a total of almost 19 million subscribers overall. Time Warner Cable was a distant second, with about a hundred thousand new customers each quarter and a total of 11 million subscribers. True, Comcast lost thousands of its more
than 22 million pay-TV subscribers in the first quarter of 2012 as families gave up on the crushing monthly expense of video, but the rate of loss was slow: hard-core sports fans had nowhere else to go, for Comcast owns eleven immensely powerful regional sports networks across the country. 
Comcast was the best at controlling city markets in America; the mediainformation company SNL Kagan noted in July 2011 that Comcast had won its designation for "most consolidated" markets, with 94 percent of the cable subscribers in San Francisco and 88 percent of the cable subscribers in Chicago. Comcast has done very well at home as well, with 86 percent of the cable subscribers in Philadelphia. It also has over 85 percent of cable subscribers in Houston. The company had 2010 revenues of $36 billion for video and Internet access combined (94 percent of its total revenues), and most of that revenue came from expensive bundled video packages—yet the prices for all of these services continued to climb. (Between 1995 and 2008, the price of "expanded basic" video packages sold by cable companies went up 122 percent, three times the rate of inflation; between 2002 and 2012, Comcast's average revenue per user per month for its video services—including high-speed Internet access—climbed 133 percent.) Those pay-TV subscribers were a captive audience for bundles of services that included high-speed Internet access, and Comcast was successfully shifting its business model: the company's high-speed Internet access subscribers were signing up far faster than the video subscribers were dropping off. Comcast faced some competition from satellite for video subscriptions, but virtually none for high-speed Internet access subscriptions.
So as of late 2011, after approval of the merger, Comcast's infrastructure and distribution business was accelerating quickly and the numbers were extraordinary. Revenues for high-speed Internet access were growing by 10 percent each quarter. Comcast's investors were happy because Comcast had finished building its network and was plowing more than 30 percent of its free cash flow (operating cash flow less capital expenditures) into dividends and share buybacks—keeping the price of its shares high. Comcast's costs for high-speed Internet access continued to fall while its margins became very high—40 percent or more—as the company charged high prices for the higher-speed access that more and more of its customers wanted.
Comcast's high-speed Internet access subscriptions were nearly twice as profitable as its video subscriptions because programming was expensive and cut into the profit margin. These high-speed Internet access subscriptions were growing swiftly in number at the same time that supportservices costs were declining proportionally due to the greater scale at which Comcast operated—yet Comcast was still charging more per subscription. High-speed Internet access, indeed, was becoming Comcast's core business, contributing most of Comcast's growth. The product is enormously profitable; when the company adds more bandwidth for consumer use this does not mean it is facing commensurate costs: the pipe is already in place. Revenue and prices continued to climb, capital spending was down, and dividends were up: all the arrows were going Comcast's way when it came to control over high-speed Internet access in the markets it dominated.