Translucent seal intestines, jumping in the lake and communal soup. Chicago Tonight knows what's going on this weekend.
Teddy Ferrara
The Goodman Theatre presents Teddy Ferrara, the newest play from Pulitzer Prize finalist Christopher Shinn. The play, which revolves around an over-achieving college senior and the impact of an on-campus tragedy, deals with continuously relevant issues of advocacy, emotional manipulation and the politics of suffering. The play is showing at the Goodman Theatre until March 3. Showtimes are Friday, March 1 at 8:00 pm, Saturday March 2 at 2:00 pm and 8:00 pm, and Sunday, March 3 at 2:00 pm. Tickets range from $20 to $35. The show's approximate run time is 2 hours and 30 minutes. Watch a Chicago Tonight interview with the artistic director of the Goodman Theatre, Robert Falls.
The Goodman Theatre
170 N. Dearborn St.
Chicago, IL 60601
(312) 443-3800
Fashion and The Field Museum Collection: Maria Pinto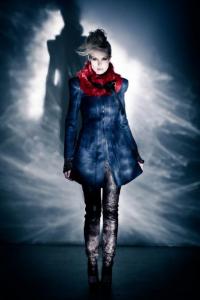 A translucent raincoat made of seal intestines. If that one sentence alone has you hooked, the Field Museum is calling your name. Fashion and The Field Museum Collection: Maria Pinto, an exhibit featured at the museum until June, is a collection of the museum's most fashionable historical pieces presented with modern counterparts designed by Maria Pinto, an esteemed Chicago fashion designer. The exhibit offers guests the chance to appreciate fashion artifacts of cultural value while enjoying the modern works inspired by them. Access to the exhibit is included with admission. The Field Museum is $15 for adults, $10 for children ages 3 to 11, and $12 for seniors and students. The museum is open every day from 9:00 am to 5:00 pm. Click here to view an interactive tour of Maria Pinto's designs and the objects she chose from the Field Museum's collections.
The Field Museum
1400 S. Lake Shore Drive
Chicago, IL 60605
(312) 922-9410
Soup & Bread: Building Community One Pot at a Time
Soup as a tool for community building and social justice? Believe it. Martha Bayne, a Chicago-based writer, editor and author of Soup & Bread Cookbook: Building Community One Pot at a Time, will discuss the transformative role that food can play in shaping culture and building relationships on Saturday, March 2 at 10:00 am at Kendall College. General admission is $3; Kendall students and faculty with ID are free. There will be soup and bread served afterwards, of course.
Kendall College
900 N. North Branch St.
Chicago, IL 60622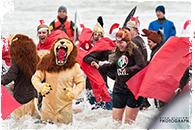 Chicago Polar Plunge
Next time someone yells "Go jump in a lake," say, "Yes." The 13th Annual Polar Bear Plunge is taking place this Sunday, March 3 at North Avenue Beach at 9:30 am. Is it really cold? Yes. Is it for a good cause? Absolutely. Plungers are asked to raise a minimum of $150 in pledges for the Special Olympics Chicago, which will benefit greatly from your hypothermic misery. After taking the plunge, shivering participants can enjoy the post-event party, which includes music, raffles, food and beverages. There are also free round trip buses for groups of 20 or more.
North Avenue Beach
1600 N. Lake Shore Drive
Chicago, IL 60614