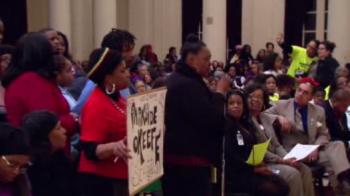 The Chicago Public Schools are in the fifth week of community meetings on the contentious issue of school closing. CPS maintains that 140 schools are more than half empty, and that the district has 108,000 empty seats. But what CPS is being told at the meetings is that no community wants to lose its school. We take a look at the process in one of the district's south side communities.
Emotions ran high in a packed room at the South Shore Cultural Center. Teachers, principals, students, parents, and community members all had one message for the public school officials who had come to listen: "Don't close our schools."
Even the politicians joined in.
"Schools become the villages that don't exist for African-American children," said Ald. Michelle Harris (8th). "It's important that we keep our villages so that they can continue to support our children."
Ten schools from the Skyway Network on the city's south side remain on the list of possible schools to be closed. That's down from 36 schools on the previous list. CPS says the remaining schools are underutilized, meaning more than 30 percent of the space in the school is not being used. Utilization is one of the key factors CPS uses in deciding which schools might be closed.
The smallest school on the list is Kate Buckingham, a special education center with only 35 students. It has a capacity for 65 students, and is currently on probation.
"I have one question to ask you today: how did we get on this list?" asked Diantha Garcia, a Buckingham school parent.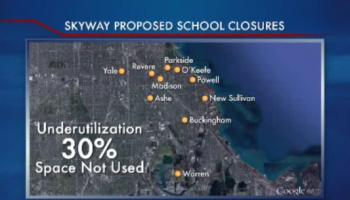 Isabelle O'Keeffe Elementary School has the capacity for 990 students; 575 now attend, giving it a utilization rate of 58 percent. It is on probation with only 19 percent of its students performing at grade level, the lowest in the Skyway Network. O'Keeffe is an old school, and CPS estimates it would cost $19.5 million to maintain and upgrade the school. But that doesn't mean the community wants to see it close.
"You say that our school is underutilized. I say that our school is full, bright and busting out of the seams with potential," said Natasha Dunn, an O'Keefe school supporter.
CPS Chief Transformation Officer Todd Babbitz listened to the hearing for hours.
"What does come clear is the passion everybody does have for their schools. And the information that they are providing is absolutely fundamental to our process," he said.
There was plenty of passion around the Adam Clayton Powell Paideia Community Academy. Powell is a brand new $35 million school that opened two years ago. The recipient of two major architectural awards, it is a 106,000 square foot steel and brick building with a green roof, three computer labs, a science lab, and a music room.
Sixty-four percent of its students perform at grade level, the highest in the Skyway Network; 532 students now attend Powell, but it has space for 810, which gives it a utilization rate of 66 percent.
"There are no empty classrooms. The school is just about full, it's fine. No empty classrooms, not over-staffed, not under-staffed; nothing wrong with the school at all," said Searra Vinnett, a Powell school supporter.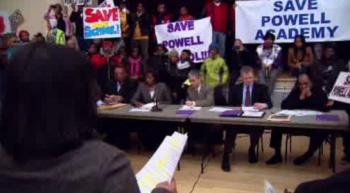 Powell Academy supporters took their protests to the meeting.
"We've only been in the building two years and already we're on the chopping block, and we're confused as to why when you claim that we're underutilized," said Jocilyn Floyd, another Powell school supporter. "It seems as though underutilization is a means of taking over and creating havoc within our community, with our students."
"Clearly, we still have some work to do to help people understand how we think about utilization. It's part of our ongoing communication effort," said Babbitz. "Fundamentally, it has to do with the number of classrooms that are in each school and the number of students who are enrolled there. We don't expect every school, every classroom in that building to be filled with 30 students. That's not the way the formula works. But it does have to do with the number of students that are in each building and the number of classrooms each building has."
CPS CEO Barbara Byrd-Bennett has said that a school will not close if there is not a better performing school nearby.
Local School Council member Ocie Banks says that's another reason to keep Powell open.
"This school should not be closed because it is a gem. It is the jewel of South Shore," said Banks. "There is no other building, and there is no other school in South Shore that is achieving the scores that Powell Academy is achieving as a community school."
Powell Academy sits on coveted lakefront property in the South Shore neighborhood. But South Shore has not been immune to the proliferation of gangs and the rising homicide rate. Powell parents claim their childrens' safety would be at risk if Powell closed.
"They are in danger of having the kids join the gang. Like, my son doesn't want to join a gang, but he will be forced to join the gang if he was to cross the tracks and go to Bradwell or O'Keeffe, or any one of those other schools. I'm not saying that the gangs are at that school, but it's gang territory that they have to cross," said Colleen Wade, a Powell Academy parent.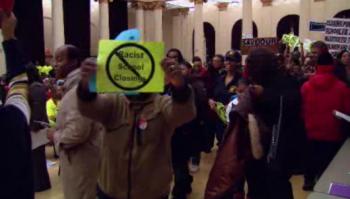 On the day of the meeting, angry Powell Academy parents filed a complaint with the Southside NAACP.
"They contacted me and they were concerned about their school closing," said Chicago Southside Branch NAACP President Rose Joshua. "Parts of the complaint talked about that they felt as though they were discriminated against because of their race, and that their school shouldn't be closed. It's a brand new school, and it is not being underutilized, but it is on the list for closing."
The CPS administrators did not interact with the speakers during the meeting, but Babbitz insists all the information will be passed on.
"It all goes back to our CEO, Barbara Byrd-Bennett. It's all taken into account as we think about next steps," he said. "Right now, we have 129 schools that are still under consideration. There's no decision made to close 129 schools. It's just a number that is still being discussed as part of these community meetings."
Barbara Byrd-Bennett will release her final list of school closings on March 31. Then, another round of community meetings will be held before the entire school board takes a vote on which schools will remain open and which schools will be closed.
Three more nights of community meetings remain. Click here for more information.