Bringing Chicago's electric grid into the 21st century. Ash-har Quraishi has the story on Chicago Tonight at 7:00 pm. For tips on how to make your energy consumption more efficient, view the factsheet below.
When Sandy battered the Northeast - the super storm knocked out power to as many as 10 million people in 21 states.
It was by far the biggest utility disruption in U.S. history. And it got the attention of those trying to upgrade the power grid.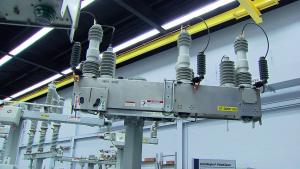 On Chicago's North Side, representatives from municipalities around the city gathered to learn about smart grid innovation and how it can strengthen the system that delivers electricity.
The group met at the headquarters for S&C Electric - a century old Chicago company that designs and manufactures switches and other equipment for electric power distribution.
S&C is one of the companies working with Illinois power company Commonwealth Edison, which is in the process of upgrading its ailing analog system with a digitally based smart grid.
"Our part of the ComEd upgrade has to do with the distribution automation. We are basically trying to reduce the number of outages and the duration of outages," said Executive Chairman of S&C Electric, John Estey. "So consumers will see a big reduction in the number of minutes in the year that they are out of power. And when they lose power, it's quite common the power will come back in a few seconds as opposed to hours."
Two years ago severe storms here left over 800,000 customers without electricity. It took ComEd crews nearly a week to restore power to all of its customers at a cost of $80 million dollars.
S&C Executive Chairman John Estey said it's a prime example of why the modernization is so badly needed.
"The system that is supplying power to most of the people in this country is basically the same that has existed 100 years ago. We have finally gotten to where there are technologies that can move it forward," Estey said. "You bring Alexander Graham Bell back and you show him how we communicate, he'd be astounded. You bring Thomas Edison back, he'd be familiar. This is what he was working with."
In 2011 the Illinois General Assembly required ComEd to spend up to $2.6 billion over 10 years for power infrastructure improvements with roughly half of that money earmarked for smart grid upgrades. In return, ComEd obtained reduced regulatory oversight - making it easier for the utility to raise rates.
The new ComEd equipment includes intelligent substations and smart switches that help provide real-time information about where power outages occur. Currently, it can take work crews hours just to locate the source of a problem.
ComEd has already deployed about 2,500 smart switches throughout the area, with about 500 going out last year. Their goal is to have about 90 percent of their customers served by circuits with smart switches by 2017.
Michael McMahon is ComEd's Vice President of Smart Grid Technology.
"So at the end of the deployment period, over a 10 year period, we expect to reduce the number of outages on the system by 700,000 customer interruptions," said McMahon.
McMahon said prevention of all those outages could save customers an estimated $100 million dollars a year in lost productivity, food spoilage and other costs associated with losing power.
But things still don't always go as planned. At the Super Bowl last month game play was suspended when an S&C manufactured relay device unexpectedly triggered a partial power outage. It took 35 minutes for power to be restored. S&C faults human error.
"Smart grid will not be a magic bullet. This is not something that's going to turn around overnight," said Executive Director of the Citizens Utility Board, David Kolata.
The Citizens Utility Board is a consumer advocacy group focused on public policy and utility costs.
"The bottom line is there are a lot of inefficiencies inherent in the current system, for example most people are surprised to learn that the electric company doesn't really know your power is out until someone calls. And that's because, you know it's one way communication…power goes up into the grid and that's that," Kolata said. "Likewise many people are surprised to learn that as much as 10 percent of power that is generated right now is simply lost on the system. It's called line loss…it literally just disappears because the electric company doesn't know that the transformers are working sub optimally. "
That's why one of the most crucial aspects of grid modernization is to create a two-way flow for both electricity and information.
That can't be done without smart meters which communicate the information. In 2009, 130,000 of these digital meters were deployed as part of a pilot program in the Chicago area.
"Well there is two big savings associated with smart meters. One is savings the utility directly receives, and we refer to those as operational savings. And then the other is empowering the customer inside their home to better manage their own electricity," McMahon said.
The operational savings to the utility company include no longer needing people to read meters.
But there is some concern about how committed investor owned utilities like ComEd are in helping consumers save money. 
"There are investor owned utilities like ComEd and Amron, and there are consumer owned utilities. In the investor owned utility regulation it is very rare that the consumer benefits or the consumer cost are even considered in the equation. The only thing that gets considered is the operational savings of the utility," Estey said.
"One of the big issues that we face in Illinois is that our biggest utilities -- ComEd in Northern Illinois and Amron in Southern Illinois -- are owned by our biggest generators. And the smart grid vision that we like is one where the system is becoming more efficient, we are using less, and power prices come down because of that," Kolata said. "Well that could be something the big generation companies don't like because it may reduce their profit."
More than 23,000 of these smart meters have been installed and are currently operating in Oak Park, just outside of the city.
Oak Park resident Douglas Chien is part of the pilot program and has become a voracious consumer of energy information.  As a result he's turned down his thermostat much to the chagrin of his wife.
"Definitely, she wants it a little bit warmer. I'm more stingy. I turn it down. And we have a six-year-old daughter who doesn't care either way, although she does now wear a hat all the time in the house," Chien said.
From his home computer, Chien is able to utilize real-time power consumption and pricing information.
Because the price of electricity fluctuates based on demand he can adjust usage based on price.
"We now know what the price of electricity actually  is on an hour by hour basis. So when we come home in the evenings and the summertime, we can turn our air conditioning up, so it doesn't kick on as much, so were not paying so much for electricity," Chien said. "Conversely, during the wintertime, when we know power is sometimes zero, we'll run the laundry machine in the middle of the night, like two in the morning, and know that it's actually not costing us anything to run."
Oak Park President David Pope said knowing the price of electricity is something that could dramatically change the way consumers think about consumption. 
"All people, regardless of the size of their home, regardless of their income status and the particular demographic characteristics, have access to this information and can use it to lessen their overall level of demand, or to shift their level of demand in ways that are good for the system as a whole," Pope said.
Pope said the eventual goal in Oak Park is not only to give consumers control over when they purchase electricity but eventually to allow the suburb to be able to generate and sell reserve energy back to the power company.
While the full grid modernization is still years away, advocacy groups like the Citizens Utility Board say despite the challenges, Smart Grid appears to be on the right track.
"There are a lot of big issues to work through. There's a lot of things that we need to learn, but we do think that if it's implemented correctly, smart grid will ultimately pay for itself, and be a value to consumers because there's so much more that can be done to make the system efficient," Kolata said.
ComEd's full smart meter deployment could begin this spring with completion targeted for 2021 for all of its 4 million customers.