In 2013, Jay Shefsky introduced us to Norma Gatto, a suburban woman who has turned her house into a glass mosaic masterpiece. We revisit her beautifully unique home.
TRANSCRIPT
Jay Shefsky: From the outside, the house seems like a typical suburban home. It's a spacious ranch on a hilly four-acre property in Addison, Illinois. But from out here, it's impossible to predict what awaits you inside.
Room  by room, wall by wall Norma Gatto has transformed this home into a work of art.
Norma Gatto (singing): Oh, the time to be happy is now. 
JS: Norma Gatto herself is kind of a work of art. She greeted us with a song.
NG (singing): The way to be happy is to make others happy, and you'll have a little heaven down here.
JS: At 87, Norma is effusive, loving, spirited and spiritual. Her 92-year-old husband, Dominick, is quieter and seems delighted by the unusual woman he married 70 years ago.
We came to Norma's home because we'd heard about her walls. But first she wanted to show us the floors. 
NG: But here's my beautiful carpet that I painted.
JS: That's right Norma has painted all the carpet in their home.
NG: When we moved in here there was a gold carpet and gold was out.
JS: Norma says she couldn't bear the thought of wasting good carpeting. She got the idea to paint it. But how do you paint a carpet?
NG: And then I just sat there and meditated, and then the lord gave me in two seconds everything I had to do.
JS: What she had to do was keep adding paint until the carpet fibers were saturated. It took 100 gallons. 
NG: The rug sucked it all in, so I got more paint and I painted it again.
JS: Sounds expensive, but she only used paint that was mistinted and was returned, so it cost her $1 a gallon.
Today, the carpet feels like a floor—a slightly bumpy floor. But the smooth surface makes for easy cleanup. 
NG: We're Italian and we make a lot of gravy and Italian food, and when we eat in the dining room—all my grandkids, they spill things. We'll never have to worry about it getting in the rug.
JS: The design on the carpet has changed many times over the years. Once the carpet was saturated, it was a canvas that Norma could repaint whenever the spirit moved her.
What kind of reaction did you get when your first did this?
NG: My family thought I was crazy. They said, "Dad, what is mom doing?" He said, "She's painting the rug." They think I'm a hippie.
Hi, Vince. That's my younger son. I love you sweetheart.
Vince Gatto: I was never embarrassed. I just didn't understand it. 
JS: Norma's son, Vince, was a teenager when she began decorating their home.  
VG: She was always kind of her own person. She instilled that in us.
When she did our house, it was what she loved, and it didn't really matter what anybody else thought, including my dad.
JS: Norma Gatto's unique creative vision is on display everywhere you look from the painted couches to the wall of mirrors, flowers and angels to the furniture decorated with cutouts from napkins. 
But if you ask me, Norma's best work is made of glass.
NG: This is my masterpiece. 
JS: I can say with confidence that you have never seen anything like this. Every inch of the Gattos foyer is covered with glass. 
NG: That's where I started—way in the corner here and I went this way.
I did many designs and then scraped them off. 
JS: Even the floor is a glass mosaic and somehow it feels solid and smooth under our feet.
And then there's the ceiling.
NG: My neck was killing me forever and ever. And this is my bedroom that I love so much.
JS: For the bedroom, Norma bought unused boxes or mirror tiles at garage sales and broke them up with pliers.  
NG: And I had to cut many, many squares to get this whole bedroom.
JS: She loves mirrors but when it was all done she wanted some color.
NG: I took the mirror off and then put these pieces. Look at that beautiful purple, red and green.
JS: You have kind of an unusual home. When she first started doing it, what did you think?
Dominick Gatto: I thought she was a little goofy.
NG: This is my sweetheart and me 70 years ago. Look how beautiful we are and we're still beautiful.
[singing] I keep falling in love with you over and over and over and over again.
JS: Dominick Gatto is a retired accountant. He was concerned about how all of this would affect the resale value of their home. He wasn't the only one who wondered.
NG: Some people come and say, "Well what if someone comes in and buys your house and they don't like [it]."I said, "You know what, I'm enjoying it. The only way I'm leaving my house is feet first."
And I'm going to live here forever and ever, and then when I die I'm going to go in the beautiful place where God's got everything waiting for us. Beautiful flowers. If someone moves in here and wants to pull all the glass, I'll never know about it. Doesn't matter to me.
JS: Norma's passion for stained glass started a bit more conventionally. Soon after they moved into this house in 1978, Norma took a class in stained glass making and she used to do a lot of it. But she didn't like working with lead and solder fumes, so she found other uses for all of her glass. 
See a montage of Norma's artwork in the video below.
---
NG: This is all my stained glass. Look at the different colors. Isn't that beautiful? That's ripple.
JS: What do you like so much about glass?
NG: I love it. I love the color, the feel. I just love being in this room.
JS: This is a tremendous amount of work.
NG: Oh my God, this took me forever. Everyone that you see like this, I cut out with the pliers and glass was flying all over—I had it in my shoes—just every place.
JS: With the pliers, you mean rather than a glass cutter?
Norma says for most of these walls she likes the rougher, more natural edge that she can get by making the shapes with pliers. 
NG: Cause every flower I cut all by hand with the pliers to give it—you know how flowers have like (motions making petals) . You notice how smooth. You won't get cut or anything cause when you put the grout it fills in all the imperfections and everything.
JS: For this wall, she did cut the glass.
NG: It looks like a peacock.
JS: In the bathroom, the best view is inside the shower stall. Here, Norma applied the glass onto a glassblock window. 
NG: What I did first, I made a tree of mirrors and I made leaves of the trees all along.
JS: And when you get out of the shower, the rest of the bathroom offers a very different view.
NG: You know what, the older you get, the more self-confidence you have. You don't worry about what the people are going to think about you. That takes a lot of wisdom. That's what you accumulate through the years is the wisdom.
JS: These days Norma and Dominick still have the energy to swim almost every day. And they're taking computer classes, but she's doing less art. She finished the glass work quite a few years ago and she doesn't repaint the carpet nearly as often.
How did you even get the idea to do this?
NG: The lord. That's all I could say.
JS: Norma is happy to show off her home and she readily acknowledges all of the hard work involved. But I notice she won't take credit for her artistic vision or for the know-how required to accomplish all of this.
NG: While when I was painting the carpet and when I was on my knees, I never drew a flower in my life. Had all these cans of paint around me and I would just get the paintbrush and when I was deep in thought, I would just asking for God's angels to help me. Someone actually took the paintbrush out of my hand and started painting for me. And it was such a beautiful feeling in my soul and when I got through in the parlor and I stood up and looked at that, I couldn't believe that I did it. But I know that anything you love, there's always an angel to guide you and perfect it for you.
JS: For "Chicago Tonight," this is Jay Shefsky.
See Norma sing to her husband and perform two other songs in the video below.
---
Related stories: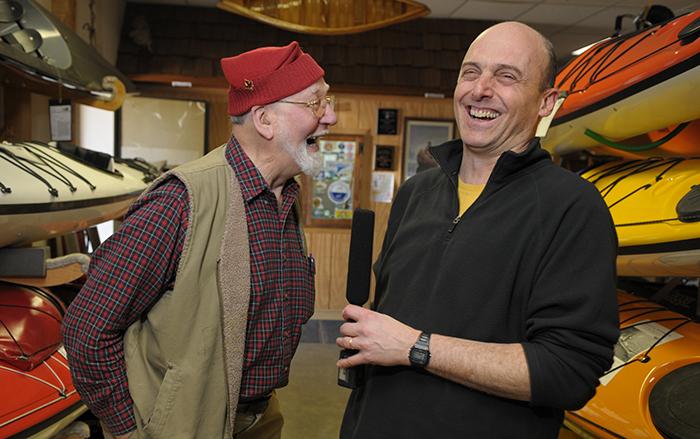 Find more of Jay's stories about Chicago people and places right here.
---