Seven months ago, President Barack Obama issued a controversial executive order extending temporary legal status to many young, undocumented immigrants. It was in response to the so-called DREAM Act legislation that has stalled in Congress. That bill would do the same thing the executive order did, but with a path to permanent residency and eventual citizenship. In the meantime, thousands of young immigrants in Illinois have responded to the presidential order, and the first young man to do so is now working at the office of a U.S. Congressman.
For most of his young life, José Quintero lived like any other Chicagoan. He grew up in the Pilsen neighborhood, graduated from Benito Juarez High School, and then went to look for a job. It was only then that he learned the family secret.
"When I barely came out of high school, I was trying to get a job, and I went to a local grocery store and a currency exchange, and those were the only two people that called me back and then they asked me for a social security number and I told them I didn't have one, and then from then on I realized I wasn't here legally," he said.
José was born in Guanajuato, Mexico, and he and his mother came to the United States when he was about 5 years old. They settled in Chicago where some other relatives were already living. His mother never told him they were in the U.S. illegally, but he says in retrospect, the signs were there.
"We never traveled outside of Chicago or Illinois. Maybe we drove to Michigan or close places, but never went outside the country, never could visit our family members," he said. "So, that was something that I found kind of weird that we couldn't go to Mexico and visit, and just come back like some of my other family did."
José is now 25, has an associate's degree from Harold Washington College, and has not been back to Mexico since he and his mother left two decades ago. As an undocumented immigrant, his life and future were hanging in the balance until June 15 of last year when President Obama made this announcement:
"Over the next few months, eligible individuals who do not present a risk to national security or public safety will be able to request temporary relief from deportation proceedings and apply for work authorization," the president said.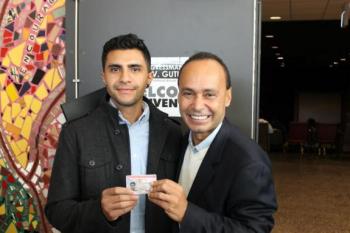 While Congress continues to debate the so-called DREAM Act that would extend legal protections to young undocumented immigrants brought to the U.S. as children, the president issued an executive order granting at least temporary legal status to hundreds of thousands of young people.
"If you're an undocumented youth, you arrived here before you were 16 years of age; in other words, you arrived as a child, and you've been here five years and you have no criminal background and you're going to school, then why don't you come forward? We're going to defer action against you. That is to say, we're going to give you a work permit, social security card, and in a state like Illinois, you'll get a driver's license, and we'll let you go work, go to school and begin your integration," said Congressman Luis Gutierrez.
Last August, when the so-called DREAMers could start applying for temporary deferment, thousands of them showed up at Navy Pier to begin the process. José Quintero went to a neighborhood church to submit his paperwork, and a short time later became the first in Illinois to receive work authorization.
He was quickly hired by Gutierrez, who has led the charge for immigration reform. José now helps other young undocumented immigrants fill out their paperwork, a process that can be time-consuming and complicated.
"A lot of people think, oh, just show up, it's an amnesty. It's not quite like that," said Gutierrez. "You have to prove when you came here, you have to prove where you went to school, you have to do a pretty exhaustive background check, and it's every year.
Max Aleman, 18, and his 17-year-old brother Alex are among those applying for DREAMer status. They were also born in Mexico, but have known only life in Chicago. For now, their goal is to be like their friends who don't have the shadow of the undocumented hanging over them.
"In high school, they teach us driver's ed, and then you actually needed a state ID or social security number, and that's when it hit me," said Max. "I was like, oh, I'm not from here, I'm not legal enough to drive a car and stuff."
"I do the same thing as the other kids. We go to the same school, I learned the same way, and there's nothing different," said Alex.
But all of the young dreamers who are granted a deferment know that for now it is only temporary. It will likely be extended by President Obama throughout his second term, unless Congress takes action.
But Congressman Gutierrez says bipartisan support for wide-ranging immigration reform is gaining momentum.
"Paul Ryan just ran for vice-president. He was a co-sponsor with me of the original comprehensive immigration reform bill in 2005. Many people were surprised to know that," said Gutierrez. "We've already had several conversations. We're working on building a coalition of Democrats and Republicans in the House."
José says his next dream is to get into IIT's architecture program, and eventually become the full-fledged American he says he feels he's always been.
According to Congressman Gutierrez, an estimated half-million undocumented young people across the country have applied for benefits under the executive order in the last five months.