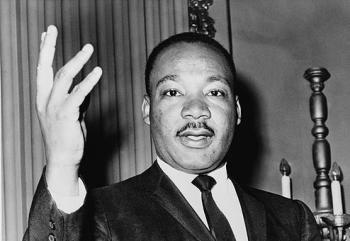 At 39 years old, civil rights icon Martin Luther King Jr. had barely begun his journey when he was shot dead by a single .30 bullet on the balcony of the Lorraine Hotel in Memphis, Tennessee.
Tomorrow, January 15, 2012, would have been Dr. King's 84th birthday – meaning that, under different circumstances, he may easily have lived to see America's first black president sworn in for a second term.
On Chicago Tonight at 7:00 PM, we try to push past the myth of Dr. King and discuss the man. Joining us are two civil rights titans who were in his inner circle, both professionally and personally, until his death.
Reverend Jesse Jackson was a top aide to Dr. King, and was with him at the Lorraine Motel when he was shot. He now leads the Rainbow PUSH Coalition based in Chicago.
Otis Moss Jr., a Baptist Pastor, was a close friend to Dr. King, serving on the board of the Southern Christian Leadership Conference. He also served as co-pastor with Martin Luther King Sr., King's father, at Ebenezer Baptist Church in Atlanta.