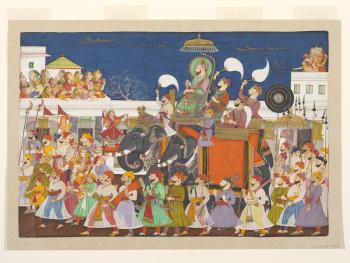 A new exhibition at the Field Museum called "Maharaja: The Splendor of India's Royal Courts" explores the dazzling world of India's maharajas from the 1700s to the 1940s, and discovers the important role these legendary rulers played in India's cultural and political history.
From spectacular processions to the inner sanctum of a palace, experience royal life during an era of great change. Through elaborate jewelry, weaponry, costumes, and artwork, trace the dynamic roles of the "great kings" across centuries — from military and political ruler, to religious leader and cultural patron.
The exhibit was organized by the Victoria and Albert Museum in London. It begins Oct. 17 and runs through Feb. 3, 2013.
Ticket to the exhibit are included in both Discovery and All-Access passes to the Field Museum. View the photo gallery and visit the links below for more information.
Watch Chicago Tonight at 7:00 pm for a preview of the exhibit.