Ald. Sandi Jackson goes back to work as the Chicago City Council takes up important measures. Paris Schutz has the latest on Chicago Tonight at 7:00 pm.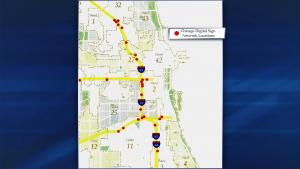 Mayor Rahm Emanuel's controversial plan to add 34 digital billboards along the city's expressways was approved today by the Chicago City Council. It also includes advertising on almost 400 BigBelly trash cans throughout downtown. The digital billboard network is said to bring in a guaranteed $15 million for the city.
In a press release today, Emanuel stated, "These initiatives allow us to preserve critical services, bring in new revenue and protect the City's historic integrity and character. The revenue from this agreement will help provide crucial services to our residents and extend programs for children across the city." View a map of expected billboard locations in the photo to the right.
Read the full measure (City of Chicago Passes Municipal Marketing Ordinance) and all the other measures approved by the Chicago City Council in the PDFs below.
Measures approved by the Chicago City Council today:
City Council Approves Municipal Aggregation For Electricity with Integrys Energy Services as Winner of Contract
City Council Passes 40 Year Water Contract with Oak Lawn
City Council Passes Agreement Allowing Low-Risk Detainees to Continue Cleaning Animal Care and Control Facility
City Council Passes Ordinance Amending and Strengthening City's Disorderly Conduct Ordinance
City Council Passes Ordinance that Advances Healthy Vending Machines Across All City Departments
City of Chicago Passes Municipal Marketing Ordinance
Community and Land Development Measure Passed by City Council
Various Measures introduced to the Chicago City Council today:
Mayor Emanuel Introduces New Ordinance to Encourage City Contractors to Purchase Alternative Fuel and Electric Vehicles
Debt Collection, Consumer Fraud and Zoning Ordinances Introduced for Consumer Protection Initiative
Department of Cultural Affairs and Special Events Annual Ordinance for 2013 Introduced to City Council
City Council to Consider Proposed Site for New Chinatown Branch Library
Mayor Emanuel Announces Appointments to City of Chicago Boards and Commissions
Mayor Emanuel Proposes Amendments to Shooting Range Ordinance
Various Community and Land Development Measures Proposed to City Council