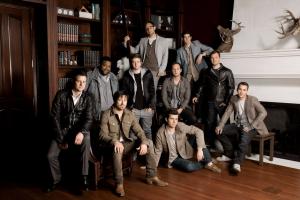 Gentleman's Rule
A 10-man a cappella group Gentleman's Rule is starting a run performing at Chicago's Royal George Theatre. The group just finished their first album, Act Accordingly, which will be released during their theater run. The album includes music from a variety of artists, including David Guetta, Bob Marley, Nelly, Stevie Wonder, Bruno Mars, B.o.B., Gavin DeGraw, Wild Cherry, One Republic, Peter Gabriel, Jake Owen, The Script, Outkast, and two original songs. Their performance schedule runs through November 25. Tickets range from $39-69. Watch Gentleman's Rule perform on Chicago Tonight.
Royal George Theatre
1641 N. Halsted St.
Chicago, IL 60614
Randolph Street's Holiday Market
Get a head start on your holiday shopping at this stylist market where you'll find the perfect gifts in all price ranges. This indoor urban market has a variety of memorable and custom-made gifts from embroidered hankies to antiques and vintage jewelry and art. And, to make your shopping experience even easier, there is free parking and free gift wrapping! Plus, if you bring a toy to be donated to Toys for Tots, you'll get free entry into the market. Market hours are Saturday from 10:00 am – 6:00 pm and Sunday from 10:00 am – 5:00 pm.
Randolph Street Market Festival
1340 W. Washington St.
Chicago, IL 60610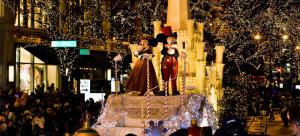 2012 Magnificent Mile Lights Festival
Watch this Saturday as the Magnificent Mile lights up the holiday season, turning on over one million lights adorning 200 trees. The day's festivities include a parade with Mickey Mouse as the master of ceremonies and live entertainment that begins at 5:30 pm. And the night will conclude with a fireworks show over the Chicago River at 6:55 pm. It is highly suggested you take public transportation to the event.
Michigan Avenue between Wacker Drive and Oak Street
Chicago, IL 60611
Pop-Up Art Loop
Discover art in unexpected places! The Chicago Loop Alliance created Pop-Up Art Loop, a crafty plan that fills empty downtown retail space by letting artists install temporary exhibits. Currently on display is Chicago artist Rick Valicenti's "Ark of the Archetypes." Valicenti created 50 digital portraits of President Obama, representing the many archetypes embodied by the Commander-in-Chief. In an unusual twist, all of the images are slightly out of focus as if they're being seen through blurry glass. The exhibit -- Ark of the Archetypes: The Politics of Projection -- is located at the Inland Steel Building at Dearborn and Monroe. The exhibit runs through Saturday. View a photo gallery of the exhibit and read a Q&A with artist Rick Valicenti.
77 S. Dearborn
Chicago, IL 60603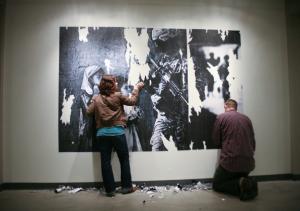 Veteran Art
On Veterans Day, the National Veterans Art Museum opened the doors at its new location in Chicago's Portage Park neighborhood. View the artwork that now includes the work of America's newest military veterans. Iraq veteran Ask Kyrie and Vietnam veteran Dr. Charles Smith unveiled their joint exhibition, "Welcome Home," at the National Veteran Art Museum. The exhibit explores the trauma veterans face upon returning home and the difficulty of assimilating back into society. Kyrie and Smith open up a dialogue about this recurring trauma that is passed across generations and the disconnect between civilians and the wars being fought. The museum is open Tuesday-Saturday from 10:00 am – 5:00 pm, and Thursdays until 7:00 pm. Admission is $10 for adults, $7 for students/seniors and free to members and active-duty military. Take a look inside the Veterans Art Museum.
4041 N. Milwaukee Ave.
Chicago, IL 60641