President Obama as you've never seen him.  Chicago artist Rick Valicenti created 50 digital portraits of the president, representing the many archetypes embodied by the Commander-in-Chief. In an unusual twist, all of the images are slightly out of focus as if they're being seen through blurry glass.
The exhibit -- Ark of the Archetypes: The Politics of Projection -- is located at the Inland Steel Building at Dearborn and Monroe. It's part of Pop-Up Art Loop, the crafty plan that fills empty downtown retail space by letting artists install temporary exhibits. The exhibit runs through Saturday. View a photo gallery of the exhibit and read a Q&A with artist Rick Valicenti.
What was the motivation/inspiration behind this idea?
In the neighborhood I live in, there's a store, Beatnix, that sells costumes, and they had a black mannequin in their window that they would dress in a costume each day. Sometimes it would be in the most surprising manner, such as a leprechaun for St. Patrick's Day. However, I was struck by how close that mannequin looked like President Obama, and as I was walking the dogs, I imagined the President himself, through various photos and press releases, would adopt archetypical male variations on his own. The traditional vision of the president is a navy blue suit with a flag pin at the lapel, but we occasionally see him in a farmer's jacket or oxford jacket, and so I started to focus on not only the costumes that represented the archetypes but also the mannerisms, and I imagined a more dimensional portrait of leadership.
I went to the Beatnix store owner to invite him to participate to bring this idea to life but he was busy for Halloween, and all of that was problematic for me, so I turned to digital rendering, which actually was a breakthrough. I fused actual portraits of Obama and layered them with familiar, sometimes ominous portraits, of male personas or archetypes. Whatever degree I objectively perceived [him to embody that archetype,] I could have him more or less visible. It gives it that level of discovery and subjectivity that I think provides insight, humor and variety to a collection of 50. I made 60 but I chose 50, one for each state. I fashioned the portraits to create U.S. on the floor, which underscored the mantra of identifying that every voter is unique; every voter is sacred.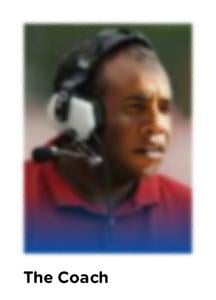 Why these different archetypes?
I can look at that collection of archetypes and go deeper. Sometimes the President is the "Coach," but when he's visiting victims of super-storm Sandy, he's clearly the "Good Neighbor," and when he helps us with affordable health care, he's the "Doctor." When he's dealing with administration or the House of Representatives, he's the "Middle Manager," but that's not always the case, so on that image it's hard to discern who Obama is or where he is. But for the "Scholar" or "Organizer" there's a lot of him. When it's time to be the father, I purposely used a Latino holding a young child, that one is called "Padre," because he's the proponent of the DREAM Act.
How did you get involved with the Pop-Up Art Loop program?
Members of Chicago's Design Museum were in contact with Chicago Loop Alliance's Pop-Up Art Loop. I had shared with them a book of these sketches for this collection, and they shared this idea with them [Pop-Up Art Loop.] I wanted it to be something in a public space before the election, and they knew just the space and curator, and so they connected the dots. Had they not done so, I probably wouldn't have been completely motivated to finish the idea. We had the reception the night before the election, and people of all ages showed up which I was really pleased with.
Was this meant to show your support for President Obama?
It was very much an endorsement. There's a blue veil of color that washes up from the bottom of the portraits—it's subtle but it's there. I wanted this to be an expression of democracy, a reflection of leadership that people get in office because we vote for them, so they are responsible for representing us. I wanted people to look in the windows and think, I'm the "Middle Man" or I'm the "Investment Person" or "Good Neighbor," and see themselves, and clearly go, 'this is what the process of democracy is.'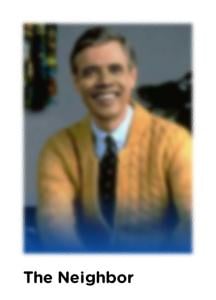 You're the founder of the communication design firm, 3st (Thirst), which speaks about embracing technology. Why do you think it's important to place a focus on technology as opposed to raw materials?
We have a good balance in the studio, which has been around for over 30 years now, and it's distinguished itself in design discourse without question. Last year, I was awarded the National Design Award: Communication Design by the Cooper-Hewitt, National Design Museum, given out by the First Lady. Embracing technology allows us to be clearly of the moment, and provide solutions and responses to opportunities we get using all media and data and forms of information, to make it alive and kicking. We bring a highly charged level of creativity.
Your firm also has a devotion to art with function. What is the function, for instance, of "Ark of the Archetypes"?
The purpose was really on the most basic level, entertainment and encouragement to have a conversation on democracy and representation. The phrase mostly refers to our commission work, which underscored the fact that the things we created -- whether it's a website or advertisement that someone sees -- we want those experiences to not be disposable but indelible and have a keepsake quality, whether the function is to sell more products or inform a new audience.
*This article has been condensed and edited.