Check Please! Host and master sommelier Alpana Singh answers your questions about wines, liqueurs and beers. She also gives some of her favorite wines for November on Chicago Tonight at 7:00pm.
Wines Alpana is drinking this month: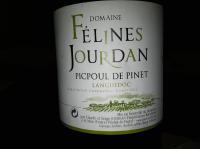 2011 Domaine Felines Jourdan Picpoul de Pinet, Languedoc, France $12
"'R' is for Oysters and any month ending in 'R' means it's time to start shucking. One of my favorite wines to enjoy with Oysters is Picpoul de Pinet. Picpoul de Pinet wines are made form the ancient, local grape 'piquepoul'. Noted for its acidity (piquepoul translates as 'lip-stinger'), it is very well suited to the warm Mediterranean climate of the region because it retains its wonderful, crisp acidity. Sea breezes from the Mediterranean help moderate the heat ensuring lots of bright, fresh flavors. While the wines are delicious summer sippers, they truly come into their flavor with shellfish such as crab, razor clams, anchovies, mussels and yes – oysters!"

2009 Tampesta Finca de Los Ventos Prieto Picudo, Spain $18
"Prieto Picudo is a new discovery for me and I've been enjoying dry red and rose versions over the last couple of months. Prieto Picudo (translates to dark pointed) is thought to be native to the León region of Spain. It is permitted for use in the Tierra de León, Valles de Benavente, Valtiendas DO regions, but a good deal of the production is bottled under the Vino de la Tierra Castilla y León heading, which is essentially the Spanish equivalent to a Vin de Pays in France or an IGT in Italy. It produces full and dark colored and brooding wines with notes of blackberry fruit and spice notes."
Liqueurs Alpana is recommending people try:
DAMIANA-- Damiana Liqueur, Mexico
"A light herbal based liqueur from Mexico. It's made with the Damiana herb, that grows in Baja California, Mexico. It mixes well and can be enjoyed neat. The bottle is modeled after the Incan God of Fertility. The Damiana Margarita is very popular in the Los Cabos area of Mexico. The leaves from the damiana plant were traditionally used in Mexico for medicinal purposes to treat a range of ailments including asthma, headaches and depression. Damiana liquor was first made by the Guaycura Indians in Mexico and used during religious ceremonies. According to ancient legend, damiana liquor was eventually banned by the Guayacara due to its strong aphrodisiac powers. In some parts of Mexico, a wedding tradition includes giving a new bride a bottle of damiana liquor as a gift to encourage fertility. Tona Palomino, beverage director at The Trenchermen restaurant in Wicker Park, has created a cocktail with it called Damiana Baby Momma made with Damiana, Yuzu citrus and tonic."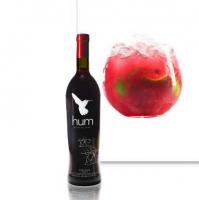 Hum Botanical Spirit $35 for 750 ml
"Brainchild of local Mixologist Adam Seger. Very popular rum based 70% proof spirit used in many restaurant cocktails in the Chicagoland area and elsewhere. I especially like it for this time of year as the spices and botanicals remind me of spiced cakes with cardamom and ginger along with hibiscus and kaffir lime. The cardamom element lends itself well to make a Negroni or Manhattan. I also like to add a splash to sparkling wine or even a simple beer."
Wine App: Corkbin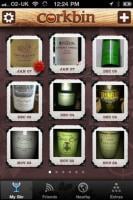 There's a new wine app called Corkbin that helps people keep track of their favorite wines.
"The new Wine App, Corkbin, is like Instagram for wine. You can keep track of the wines you've enjoyed, and share your wine notes and photos with other enthusiasts. It will also instantly upload the information to Twitter and Facebook. It also includes a wine dictionary and food & wine pairing guide. You can also follow other people – I am at alpanasingh. You can download the App for free – more information: http://www.corkbin.com/."