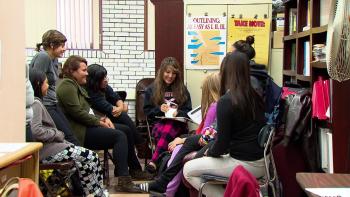 On the surface, there's nothing uncommon about the "Dream Team," an after school group at Schurz High School on the northwest side of Chicago. The club's gearing up to fundraise this fall. Members are somewhat worried about attendance, and hope to go from one dozen to two dozen students this year.
But beneath the surface, this small after school club is about something much bigger: the changing face of America. The Dream Team is a group of undocumented students – and their supporters – who are hell bent on going to college, with or without legal status.
For senior Janeth Cordova, being part of this group has made it easier to articulate her own story. Born in Mexico, Cordova didn't know she was undocumented until she asked her mother for her social security number to accept a scholarship in high school. When pressed, her mother told her she had none.
"I was devastated," Cordova said. "I lost the scholarship. I couldn't get my license. And that day, I was like 'I have to do something to go to college and do something with my life.'"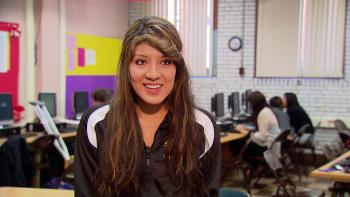 It was Cordova's college and career counselor, Maddie Orenstein, who first put the Dream Team together. Orenstein had noticed that students at Schurz didn't talk about their immigration status as openly as students in Little Village or Pilsen, despite the school having a large undocumented population with very real needs. According to Orenstein, these students make up about a fifth of the school's 2,500 kids.
Thus, the Dream Team was conceived: a safe space for students to not only talk about their status, but plan for the future. Orenstein says that without a group like this, few of these students would understand their rights. For instance, that it's entirely safe for an undocumented student in Illinois to call an admissions officer and ask for advice.
"If they don't have specific supports in place and someone to go to for resources, because there are resources out there, and so many people involved in this issue, then it's easy for them to walk across the graduation stage and be completely lost afterwards," Orenstein said.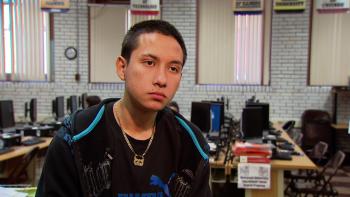 The Dream in Illinois
Last year, Cordova's family moved from Michigan to Illinois so she could have a better shot at college. That's because, unlike Michigan, Illinois has its own Dream Act, signed into law by Gov. Pat Quinn in 2011. Since the act was passed, Illinois is considered a relatively safe state for undocumented students.
Still, it's a complicated landscape. What exactly can undocumented students in Illinois do – and not do – to access higher education?
Dreamers, as they're called, cannot apply for any federal aid. They are, however, eligible for in-state tuition at public schools. They're entitled to teachers and counselors who know their rights, and can advise them accordingly. And here in Chicago, no public school official can report an undocumented student to homeland security.
For Moses Lagunas, being part of the Dream Team has vastly expanded his sense of post-high school possibilities. Now, Lagunas says he understands that there are private scholarships he can turn to even when the door to federal aid is closed.
"I know there are other things I can do," Lagunas said. "It's not just FAFSA [the Free Application for Federal Student Aid]. FAFSA's not the end of the world."
Even so, money is the single prohibitive factor for many undocumented students to go to college. Most students at Schurz come from households that would make them eligible for the maximum amount of government aid, if only they had papers. They can apply for private scholarships, but first they have to sort through the haystack to find applications that don't ask for a social security number. And even with private aid, four years of tuition can still be out of reach.
This is why the Dream Team is fundraising. Right now, members are trying to build a meaningful scholarship fund that they can dip into, if necessary, for college. They're starting modest – selling small items at homecoming games, for instance – but still, the students' ambitions are big.
"I hope we have enough for us to, later on, if we need it, to rely on it," said Diana Bahena, a student on the Dream Team. "That we split it to cover at least a year of tuition."
Self-education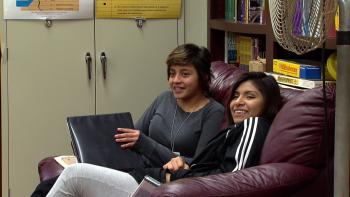 For an undocumented student, keeping track of all the rules and loopholes is complicated. Thus, the Dream Team is designed to help students make it through the process.
"I know that if I need help, there's going to be other people around me, helping me," Bahena said.
For Moses Lagunas, not making it to college is not an option. His older sister graduated from Chicago's Lane Tech High School, but never made it past that point because she had no idea what colleges and scholarships she could apply to without a social security number. With the support of his peers, it's a fate Lagunas is determined to avoid.
"If one of us gets left behind, we all come back for that person and bring them back up," he said.
In the process of all this, members of the Dream Team are also learning the basics of grassroots political organizing. These days, for instance, they're collecting signatures to send to City Council to ask that undocumented students be eligible for driver's licenses.
And, on a basic level, faculty members say the Dream Team is exercising another muscle: courage. Last year, the group led a massive training session for teachers and counselors on how to advise undocumented students on college. There, in front of an audience of 100 students and faculty members, Cordova opened up about her story.
"They all thought I was a normal kid, as people say 'normal,' because I have papers," Cordova said. "I felt awkward. I didn't want their pity. I just wanted their support."
The event left an impression on the school's principal, Daniel Kramer.
"For the students to stand up in front of their peers and say, 'Listen, I'm undocumented. I have issues within my family that could potentially tear us apart,' that takes a lot of courage," Kramer said, a poster of Martin Luther King Jr. hanging on the wall of his office. "That was real, civil rights movement-type courage."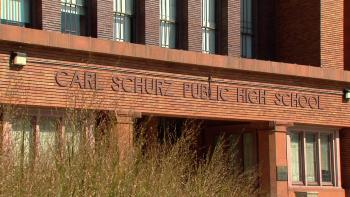 A Model for the City?
Also in the audience at the Dream Team's teach-in was Adolfo Hernandez, who happens to be Mayor Rahm Emanuel's newly appointed immigration czar. He, too, was impressed.
"It was completely put together by the youth," Hernandez said of the event. "It was led by the youth. It was facilitated by the youth."
These days, Hernandez is in informal talks with the Dream Team to find out how he can use their group as a model for public schools across the city.
"What the Schurz High School students are, are leaders," he said. "That's one of the things that we want to make very clear about our immigrants, our undocumented immigrants and young people, the dreamers in our city – is that they are leaders. They're already contributing to our city."
In the end, the Dream Team may also be practice for the road ahead. Despite promises from both sides of the aisle, Washington is still far from passing any kind of comprehensive, national immigration reform.
"When they leave this building, the students are adults," Orenstein said. "And they have to be able to stand up for themselves."