The video cannot be displayed.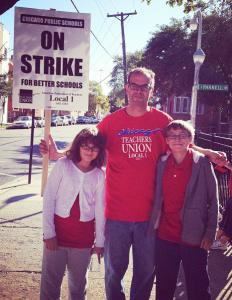 With another day of Chicago Public School students out of class, frustration is mounting. Negotiations, according to both sides, are moving at a snail's pace. But what are teachers on the picket lines saying? We spoke with a few to find out if what's on the table is really what teachers on the ground are most concerned with.
Outside the Chicago Board of Education building, teachers, students, school nurses and therapists gathered to shift the focus.
Teacher evaluations and recall have been at the center of discussions, but some teachers on the picket line say there are more immediate subjects to tackle - ones that directly affect how students learn.
"This is one of the main things we are fighting for," said CPS Occupational Therapist Kirstie Shanley. "We are fighting for smaller classrooms to teach the children of Chicago appropriately."
The teachers we talked with are concerned about basic teaching conditions, such as books, class size, air conditioning and other fundamental tools that they say they need to do their jobs.
Many teachers say it's a misconception to think this clash is about putting more money in their pockets.
"I'm willing to bet that every teacher in CPS would forego their 2 percent raise next year if we could get air conditioning in the classroom," said CPS 7th grade English teacher Jim Macchione. "I think if you put that to a poll, I think you would have almost unanimous consent."
Under state law, compensation is one of the few disputes that provide the necessary legal legs for a strike, but most of the issues teachers on the line are fighting for have nothing to do with wages.
Shanley says it's about much more than money.
"That's really not our main issue here. We really want to get back to our classrooms as soon as possible, but we're fighting this fight for our kids, on behalf of our kids, because we believe that every kid needs to have appropriate therapy services when they have a disability," said Shanley. "We believe that every kid should have an evaluation when it's been identified that they're struggling in school and they need extra support."
CPS speech therapist Ann Selin also wants to get back to her students. Watch her comments in the following video.
And while it is quite literally a walkout, teachers say it is also a symbolic show of unity; demanding respect from the School Board, the Superintendent and the Mayor for the various challenges teachers say they face in classrooms every day.
"There's definitely a disrespect. Congress works less than us, the aldermen work less than us, they all make more than us," said Macchione. "The aldermen got a 6 percent raise. I mean, the idea that somehow teachers are being vilified or put as the bad guy, there's definitely something behind that in the strike."
As the stalemate extends another day, there seems to be a growing disconnect between what's being discussed on the ground by teachers and the issues that appear to be holding up a settlement.
READ MORE REACTION FROM CPS TEACHERS AND PARENTS
What are your thoughts about the Chicago teachers' strike? Post your comments below or sound off on our discussion board!