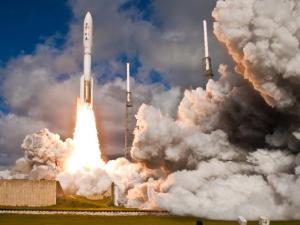 It's one of NASA's most daring undertakings. The Curiosity rover is set to land on Mars on August 6. The lead scientist of NASA's Mars Exploration Program, Michael Meyer, joins us on Chicago Tonight at 7:00 pm to tell us about the mission, including the so-called "seven minutes of terror."
NASA's Mars Science Laboratory spacecraft (Curiosity), sealed inside its launch vehicle, clears the tower at Space Launch Complex 41 on Cape Canaveral Air Force Station in Florida.The mission lifted off at 10:02 a.m. EST (7:02 a.m. PST), Nov. 26, beginning an eight-month interplanetary cruise to Mars. The spacecraft's components include a car-sized rover, Curiosity, which has 10 science instruments designed to search for signs of life, including methane, and to help determine if this gas is from a biological or geological source.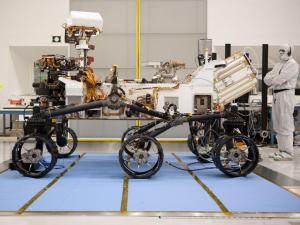 About the size of a small SUV, NASA's Curiosity rover is well-equipped for a tour of Gale Crater on Mars. This impressive rover has six-wheel drive and the ability to turn in place a full 360 degrees, as well as the agility to climb steep hills. During a nearly two-year prime mission after landing on Mars, the rover will investigate whether Gale Crater ever offered conditions favorable for microbial life, including the chemical ingredients for life.
This view of the head of the remote sensing mast on the Mars Science Laboratory mission's rover, Curiosity, shows seven of the 17 cameras on the rover. Two pairs of Navigation cameras, among the rover's 12 engineering cameras, are the small circular apertures on either side of the head.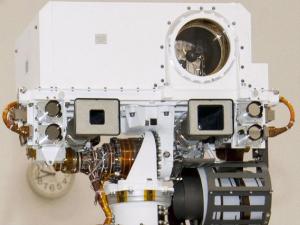 On the top are the optics of the Chemistry and Camera investigation, which includes a laser and a telescopic camera. The Mast Camera instrument includes a 100-millimeter-focal-length camera called MastCam-100 or M-100, and a 34-millimeter-focal-length camera called the MastCam-34 or M-34. The two cameras of the MastCam are both scientific and natural color imaging systems. 
Dr. Michael Meyer has been the lead scientist for NASA's Mars Exploration Program, at NASA Headquarters in Washington. He oversees the program's science operations and planning. Meyer earned his master's and doctorate degrees in oceanography from Texas A&M University, College Station, and a bachelor's degree from Rensselaer Polytechnic Institute, Troy, N.Y. His research emphasis has been in microorganisms living in extreme environments.
Watch NASA's "seven minutes of terror" video, where team members share the challenges of Curiosity's final minutes to landing on the surface of Mars.
Watch a video animation depicting key events of NASA's Mars Science Laboratory mission.
Watch a video showing how the Mars land rover will land and navigate.
Curiosity Landing Party - Free After Hours Event at the Adler
Celebrate the landing of Curiosity on Mars at the Adler Planetarium. Learn more about the rover's mission, the challenges of reach Mars, the rover's capabilities, and what scientists expect to find when Curiosity lands in Gale Crater in a series of hands-on activities, special presentations, and live NASA coverage of the landing. Plus, come dressed to impress in your "Mars Red" or space-themed digs for a chance to win a special Mars gift basket! Curiosity will land at approximately 12:31 am CDT on August 6. The landing party starts Sunday, August 5, 9:00 pm - Monday, August 6, 2:00 am. Click here for more information.