A pair of Chicago bands prepare for the spotlight at the Pitchfork Music Festival. We visit them in rehearsal to find out what they're all about on Chicago Tonight at 7:00 pm.
The three-day festival kicks off Friday with some of independent music's best bands and artists. Pitchfork showcases over 40 acts on three stages, in West Town's Union Park in Chicago. Read what the two local bands -- A Lull and Outer Minds -- say are their top picks for the festival, and watch videos of headlining acts below.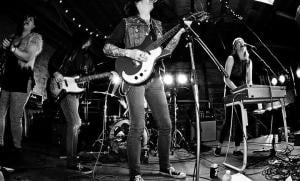 Local band Outer Minds, is a garage rock/psychedelic band with a 60s feel. Outer Minds' guitarist Zach Medearis says his biggest musical influences have been punk rock and 60s psychedelic music, specifically 13th Floor Elevators. His top picks for the festival: A$AP Rocky, Ty Segall, Thee Oh Sees and Wild Flag. The band will be releasing a new EP in the fall that Medearis says is "a lot darker, less shiny and pretty, and a littler heavier" than their previous stuff.
"When I write stuff I just go with what's going through my head, I just go with what's happening in my mind at the time, it doesn't mean I'm having dark thoughts, music just comes out and I let it do its thing," said Medearis.
The band's Southpaw LP is now available for $10 download on bandcamp. They play Friday at 3:20 pm on the Blue Stage.
Listen to "Until You're Dead" off the band's Southpaw LP.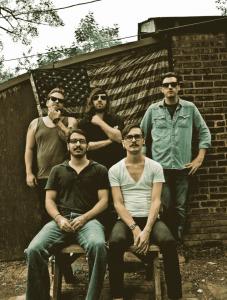 Another band hailing from Chicago and performing at the festival is A Lull. The five multi-instrumentalists beautifully craft songs that are unique and memorable.Their big sound and multiple rhythms have many describing them as primal, though their guitarist Nigel Dennis says they're trying to steer away from that a bit.
"As far as sound goes, we keep it pretty natural and let what happens happen. We sort of set out to be very percussive and drum-oriented," said Dennis. "We've been called tribal quite a bit and we're trying to get away with that and not be so saturated. We're pulling back and using more restraint."
The new EP Meat Mountain, displays this restraint, taking advantage of all spaces and keeping an open sound.
Nigel's top picks for the festival are: A$AP Rocky and Godspeed You! Black Emperor- the latter having influenced his own music with their epic sound quality.
The band plays Sunday at 1:00 pm on the Blue Stage.
Check out the feature song "Summer Dress" from the band's new EP Meat Mountain.
Watch Feist perform "Cicadas and Gulls" alongside Oakland street dance crew Turf Feinz. Feist is headlining Friday night on the Green Stage at Pitchfork.
Meet Claire Boucher of Grimes in a mini documentary, En El Laberinto, that follows her performance at last month's San Miguel Primavera Sound festival in Barcelona, Spain. Grimes is headlining Saturday night on the Blue Stage.
Watch the music video for Vampire Weekend's "Giving Up the Gun," off their Contra album. Vampire Weekend is headlining Sunday night on the Green Stage.
Extra features of the festival include the Book Fort, where one can browse tables and bookshelves and speak directly to publishers and editors from various indie presses. There will also be a Coterie, presenting the wares of 40 artists and craftspeople, a Flatstock art/poster show, and Chirp Record Fair, offering a spectacular variety of vinyl.
Pitchfork also announced that they're going to livestream this year's festival on their Pitchfork.tv YouTube channel.  So if you don't want to brave the heat…you don't have to. And you can download the Pitchfork Music Festival mobile app, that has the official schedule, a map of the grounds, and will even set alerts so you don't miss any bands.
Three-day passes and Saturday one-day passes are sold out, but one-day passes for Friday and Sunday are still available.