Need some ideas for what to do this weekend? Chicago Tonight knows what is going on!
Eastland
Thousands of horrified onlookers witnessed Chicago's most deadly disaster on the morning of July 24, 1915. Known as the "Greyhound of the Lakes," the luxury steamship, the Eastland, slowly settled on its side on the banks of the Chicago River. Though the ship was only in 20 feet of water, 844 of the 2,500 passengers aboard were killed, just a few feet from the wharf. In the spring of 2008, the City of Chicago began construction on an $80 million Chicago Riverwalk development project, entitled At The River's Edge. Serving as a memorial, the exhibit also draws attention to what happened at that same site nearly a century ago. This tragic disaster is also being remembered through Artistic Director Andrew White's new play, Eastland. He resurrects the ghosts of America's forgotten tragedy in the Lookingglass' original musical. "The play seeks to revive the ghosts of those who drowned in this Chicago disaster of 1915, and asks questions about which events linger in our memory and which become lost to history," says White of the play, which has received the Edgerton Foundation New American Play Award. Tickets are $44 and the play runs through July 29. Check out a review of the play by Chicago Sun-Times theater critic, Hedy Weiss.
Lookingglass Theatre Company
821 N. Michigan Ave.
Chicago, IL 60611
Chicago Craft Beer Festival
Head to St. Michael in Old Town for the inaugural festival showcasing Midwest craft beers. Enjoy great music, food, beer tasting, arts and crafts and other fun. A separate area at the event will be set aside for a stand-alone craft beer tastings. Among the featured beers will be offerings from Chicago's Revolution Brewing, Michigan's Arcadia Ales (Battle Creek), Wisconsin's Hinterland, New York City's Brooklyn Brewery, Clown Shoes in Massachusetts, Baltimore's Stillwater Artisanal Ales, Texas's Spoetzl Brewery and Utah's Uinta Brewers. Live entertainment throughout the weekend will include Virginia rockers, the Pat McGee Band, singer/songwriter Matthew Santos, California indie rockers Shiny Toy Guns, South African alt-rockers Civil Twilight, and the New Orleans jazz/funk sounds of Ivan Neville's Dumpstaphunk (Ivan is the son of R&B legend Aaron Neville.) Festival hours are 5:00 pm to 10:00 pm Friday, 11:00 am to 10:00 pm Saturday and 11:00 am to 9:00 pm Sunday. General admission is $5, and craft beer tasting tickets range from $35-50.
St. Michael in Old Town
1633 N. Cleveland
Chicago, IL 60614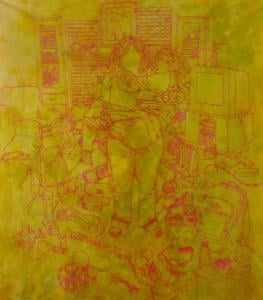 Rockford Midwestern Biennial
The 2012 Rockford Midwestern marks the 72nd presentation of Rockford Art Museum's juried exhibition, which began in 1913 as an annual showcase of local artists. Now a biennial competition that surveys the breadth and depth of contemporary art in the Midwest today, the exhibition is open to new original artwork in any medium by artists residing in Illinois, Indiana, Iowa, Kentucky, Michigan, Minnesota, Missouri, Ohio and Wisconsin; 675 works by 234 artists were submitted for consideration. One featured artist is Kathie Webb, who stitched about her life as the mother of a mentally challenged child. Webb uses fiber-reactive dye to create color and texture, and then hand-embroiders images. Her work titled is entitled "Everyday 1." The exhibition is open Monday-Saturday from 10:00 am to 5:00 pm and Sundays from noon to 5:00 pm. Admission is $7 for adults and $3 for seniors and students. Members and children under 12 enter free, and Tuesdays are free to the public.
Rockford Art Museum
711 N. Main St.
Rockford, IL 61103
Old St. Pat's World's Largest Block Party
Meet and mingle with new people and single Chicagoans amid live music from big-name bands and great food. Old St. Pat's Church is the host for this party's 28th year. It's not free, but your proceeds go toward a great cause - the mission and outreach activities of Old St. Pat's. Two stages will be playing live music all night, with headlining bands on the main stage-Ben Folds Five on Friday and Lifehouse on Saturday. Four free drinks are included with admission. Admission is $40 for a one-day pass and $75 for a two-day pass. The festival runs from 5:30 pm to 10:30 pm on both days.
Old St. Pat's Church
West Madison Street & North Des Plaines Street
Chicago, IL 60661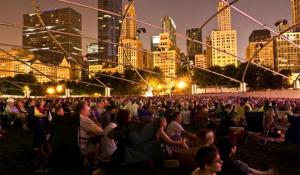 Grant Park Music Festival: Golden Anniversary Choral Spectacular
Grant Park Music Festival - the nation's only free outdoor classical music series - continues its 78th season and celebrates Grant Park Chorus' 50th anniversary with a special performance of Stravinsky's Les Noces, Whitacre's Cloudburst, Tormis' Raua Needmine, and Orff's Carmina Burana. Grant Park Orchestra Conductor Carlos Kalmar and Chorus Director Christopher Bell will share the podium for this program. Whether you listen from your place in the Seating Bowl or while enjoying your picnic on the Great Lawn, the Jay Pritzker Pavilion's unparalleled acoustic system delivers an extraordinary sonic experience for audiences with the starry sky and amazing Chicago skyline as backdrop. The festival begins at 6:30 pm on Friday and 7:30 pm on Saturday. Admission is FREE!
Jay Pritzker Pavilion Millennium Park
201 E. Randolph St.
Chicago, IL 60601