Nightclub and electronic DJ music mix with classical sounds at the Chicago Symphony Orchestra's Mercury Soul. We talk with CSO's Mead Composer-in-Residence, Mason Bates, on Chicago Tonight at 7:00 pm.
Chicago Tonight spoke with Justin Reed, a member of the Chicago DJ collective, illmeasures, and one of the Mercury Soul performers, about his personal sound and how it will compliment the classical music performances bookending his DJ sets at the upcoming event.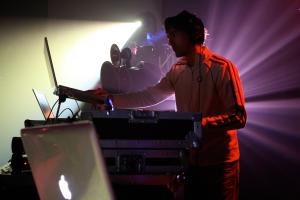 illmeasures is a collective of DJs. How would you describe the sound?
We started about 12 years ago as a collective of DJs and young creative types, like graphic designers, promoters and musicians. There are four active members now. We're all performing artists. In terms of style, we have a broad range of sounds, but I'd describe it as relatively underground, non-commercial dance music ranging from a slower down-tempo style to techno music.
What about your personal style?
I'm a big music lover. I have a passion for everything from funk and soul music, that 60s, 70s and 80s sound, to disco and early dance music that was popular through the 90s. I came up in the 90s, which means a certain thing as a house and techno DJ. There are certain moments that were defining to the DJ subculture. So I wear a lot of hats. I play both lounge environments and big club environments, but kind of with an ear to more of an underground sound, one that's typically instrumental.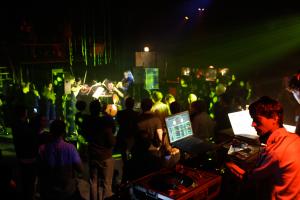 How did you meet Mason Bates?
Mason and I met through a mutual friend in San Francisco. We had a former illmeasures DJ who moved out there a few years ago. He met Mason through a mutual friend the two shared, and they hit it off and started sharing music. Mason asked him for some CDs of ours from Chicago. Mason and I have a similar aesthetic for music, particularly down-tempo music. Mason responded to the mix CDs he heard. And when he was starting his residency at the Chicago Symphony Orchestra, he was interested to plug into local DJ culture. He reached out to me about eight months before his residency started, and we've been working together ever since.
Is that how you became a part of Mercury Soul?
Mason was always interested in doing Mercury Soul. One of his main motivations when he arrived was to reach out to us in sort of a promotional measure to find local  people who were aware of the market and the marketplace, and had established relationships and knew good venues. One of the things we did talking over phone before he even came to Chicago was brainstorming venues for last spring's Mercury Soul.
Most people would think electronic and classical music are rather strange bedfellows. Is that something you agree with and why?
Well, I think when most people consider classical music, they think of music from the 18th century. Classical music never stopped being composed and performed. It's a living thing. Along with its evolution, certain composers haven't shied away from using new technology. With Mason, he has this love of new electronic music and an appreciation and love of classical music. He's integrated it into all of his work. It's kind of a hallmark of his.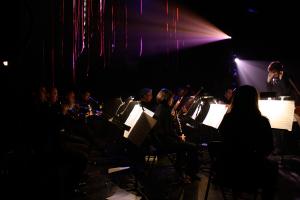 What do you think this new mix of classical and electronic styles says about contemporary music composition?
It says that there's a portion of the population that is open to new sounds, that doesn't want to go hear the same predictable music. They're looking for new experiences, and that might come musically or through the production elements. Mercury Soul is separate from any show. There's a certain element of theater involved that I think is really remarkable. From someone who's been involved in nightclub and concert events for 15 or 16 years as well as a fan and producer and performer, it's something that I've never seen brought into that environment. That's a big part of what separates it, not only the mixing of two worlds, which is noteworthy, but audiences get to hear some DJ music and dance music. For the classical crowd, the music can be appreciated beyond what you might think of it. And for the club crowd, they get to hear that other side, the incredible musicianship that the musicians are presenting in those classical pieces.
How do think your sound compliments classical pieces that will be performed by CSO musicians. What are the similarities you see?
For myself and partner, Ben Stroh (DJ Striz), we have such a love of a broad swath of electronic music. We have the ability to create a mature and sophisticated electronic environment. I might have 5,000 records and another 10,000 songs in digital format. And from all of those songs, we'll make a playlist that will be about 50 songs, so we're able to refine the sound out of this vast world of electronic music, really fine tune our set to do service to the event as a whole.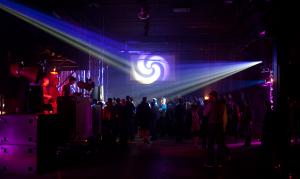 How do you go about vetting that huge selection into just a few dozen songs?
Well, first we work with Mason to get a schedule of programs together, choosing music for the interludes and symphony pieces, as well as the DJ sets. We're really incorporating a lot of artists in this program. For me, I'm playing the first and third DJ set. For the beginning of evening, I'll choose something slower tempo, because I'm not looking to ramp up the energy right away. I want something to set the mood a little. I'll choose some tracks that can portray the overall aesthetic, sophisticated electronic and well-composed music. On the third set, I'm looking to build an energy, so I'll choose songs between 123 and 126 beats per minute. This year, I'm looking to do more of a polyrhythmic sound, interesting percussion sounds. I'm playing with a live trumpet player for both sets. I want to play tracks where there's room for Tom Madeja, who's a brilliant improvising trumpet player. I'm looking to choose songs to give him some space, nothing too busy, nothing with major brass hooks. For all of that, it's hours of going through songs and quickly cycling though them and saying yay or nay.
How does your sound then fit in with Mason's musical vision for Mercury Soul?
There's always the aesthetic baseline when you're doing an event. As a promoter or producer of events myself, you book people because you appreciate their music and think they'll be able to play music that is appropriate for the environment and energy you're looking to bring to the event. Musically, the goal is to really bring that nightclub energy into the mix, to integrate that DJ culture. What I'm looking to bring is some of that energy, that rhythmic intensity that is inherent in modern DJ culture. At a baseline, that's what I'm bringing. After that, it's a question of aesthetic.
Mason Bates will host Mercury Soul on Friday, June 15 at the Metro in Chicago. Listen to an interview between WFMT's Andrew Patner and Bates about Mercury Soul in the Audio Attachment below.