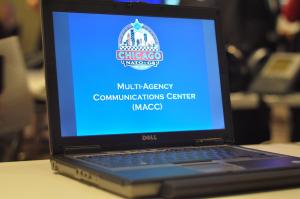 In an undisclosed location in suburban Chicago, members of the Chicago Police Department, the FBI and the U.S. Secret Service will be on watch.
The Multi-Agency Communications Center, or MACC, will serve as the information nucleus during this weekend's NATO summit.
Some 43 agencies will use this room to coordinate communications between their respective organizations.
Roger Goods is a special agent in-charge with the U.S. Secret Services Indianapolis field office and has been assigned to supervise the center.
"What we do here is we bring the information in, we provide it as accurately and timely as we can to all the agencies," said Goods. "They take ownership of whatever little piece of that that they have, and then they disseminate that to their appropriate operational center for whatever action they deem necessary."
Goods says that information will come from various command centers and security locations, like the Office of Emergency Management and Communications, CPD or the fire department.
"It could come from a Department of Transportation worker," he said. "It could really come from just about anywhere - the National Weather Service."
Of course, police on the ground will be feeding information in, which will eventually be relayed to the center as well.
"Well, we'll be monitoring anything that could affect the events going on in the city," said Chicago Police Capt. Hootan Bahmandeji. "So, it could be something small. For example, there may be a traffic accident on the highway that may affect the traffic with the delegates moving on. We'll pass that information along so that we can be prepared." 
CPD and other agencies will have access to real-time traffic cameras watching and sharing any reports of disruptions on the streets.
In addition to keeping tabs on what may be happening around the NATO summit and at various locations around the city, the FBI will keep a close eye on any reports of credible threats.
Joan Hyde, special agent with the FBI in Chicago, says that so far there is no evidence of any terror threats. 
"We've got our intelligence resources gathering that intelligence that's going to be needed to be shared with our partners," Hyde said. "To date, we don't have anything to report fortunately. We hope it continues that way through the weekend."
"Through experience, we've determined that we have everyone here that we need to have to properly engage anything that comes up and take the best and appropriate action for it at the time," Goods said.
Right now, the command center, which looks a lot like an empty call center will be bustling with activity when it goes operational on Friday. The Secret Service says it will be manned by 60 people at any given time, and will run 24 hours a day through the end of the summit on Monday.