With the NATO summit less than a week away, activity surrounding the May 20-21 gathering – including protests, security efforts and transportation restrictions – is ramping up as it grows nearer.
Eight people were arrested Monday morning after a group of protesters rushed into the building that houses President Barack Obama's campaign headquarters, according to the Chicago Tribune. Reports say the protest, which drew about 100 people, was organized by the Catholic Worker Movement and kicked off what demonstrators have named the "Week Without Capitalism."
The Tribune says a group of protesters picketing in Prudential Plaza entered the lobby of the Loop building around 8:30 am. The building guards reportedly tried to block the demonstrators, but ultimately allowed them to file in. After a statement was read by protest leaders, a handful of participants refused to leave, even after being asked by Chicago Police. The Tribune says the group was handcuffed and removed from the building while singing "This Little Light of Mine."
Protests, security concerns, and the general unpredictability surrounding the May 20-21 summit have been cited by some downtown businesses as reason to close their doors during the upcoming event. The Tribune reports downtown's AON and Blue Cross Blue Shield of Illinois have distributed memos to employees permitting them to work from home both Friday and Monday, while the offices will remain open. The American Medical Society will also close its River North offices Monday due to foreseeable transportation issues.
"A lot of our employees have to travel through those congested areas," AMA spokesman Mike Lynch told the Chicago Tribune.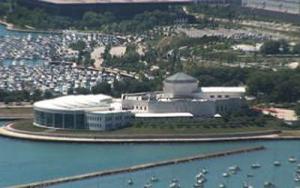 This comes after announcements that The Art Institute, Shedd Aquarium and the Adler Planetarium will be closed Saturday through Monday due to NATO-related issues. The Field Museum will be closed Sunday and Monday.
Metra and the Northern Indiana Commuter Transportation District also announced closures and increased security measures during the NATO Summit. NICTD announced Monday it will cancel 11 trains along the South Shore line on May 21. The McCormick Place and Museum Campus/11th St. stations will also be closed May 19-21.
The Chicago Sun-Times reported Friday that 26 stations along Metra's Electric Line will be closed May 21 to "focus security on stations with higher ridership," and no inbound Electric Line trains at all will run between noon and 6:00 pm on May 21. Five of those stations – 47th Street, 27th Street, McCormick Place, 18th Street and Museum Campus/11th Street — will also be closed May 19 and 20.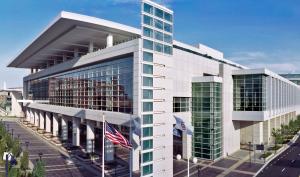 "I can catch a bus, but still my bus goes downtown on Lake Shore Drive (which will be closed from 39th to Balbo), so it's still going to be affected, and I just started my job so I can't take a vacation day," Renee Jackson, 50, told the Sun-Times.
In addition to the closures, Metra says on its website from May 19-21, all riders may be subject to searches and screenings, will be allowed only one bag, not exceeding 15 inches square and 4 inches deep, and prohibited from carrying on any food or drinks – including coffee. Similar security measures are also being adopted by NICTD.
Parking restrictions near McCormick Place, where the summit will take place, were put into effect Sunday night, with more slated for Tuesday. The Chicago Tribune reports Indiana Avenue from Cermak to 24th Street was closed off Sunday morning. The ban will expand to several square blocks west of the conference center Tuesday, and remain in effect until after the delegates leave.
We have a full rundown of what to expect for the upcoming NATO summit on Chicago Tonight at 7:00 pm.