Rev. Jesse Jackson says he plans to protest during the upcoming NATO summit.
NBC's Ward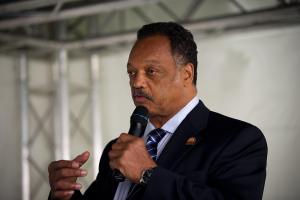 Room says Jackson announced his decision Monday evening alongside other religious, labor and community leaders who also plan to protest.
The Chicago Tribune says Jackson compared the NATO march to Vietnam Protests, saying the message was the same: "spending millions of dollars and losing lives on war at the expense of funding for education and health services."
Jackson says he doesn't know how many people will attend the protest, but that he hopes it will remain peaceful.
"Violence is a distraction. We choose to be non-violent not because we're afraid but because we are wise," he told NBC reporters.
The protest is planned for May 20, the first day of the NATO summit.