A new website depicting the history of the Civil War has been created. "The Civil War in Art: Teaching & Learning through Chicago Collections" officially launched on Thursday, April 12, on the anniversary of the attack on Fort Sumter, which marked the beginning of the American Civil War. It was funded and developed by the Terra Foundation for American Art.
"We got started in 2009. The Terra and Newberry [Library] invited representatives from cultural organizations around the city for meetings to talk about what everyone's plans were to acknowledge the 150-year anniversary of the Civil War," said Jenny Siegenthaler, program officer at Terra. "Out of those conversations, it became clear there was interest in doing something for teachers and students."
The seven organizations contributing art and content to the website include the Art Institute of Chicago, Chicago History Museum, Chicago Park District, Chicago Public Library, DuSable Museum of African American History, The Newberry Library and the Terra Foundation for American Art.
The art featured on the website varies greatly.
"The collection includes everything from one-of-a-kind large scale oil paintings to campaign paraphernalia," said Siegenthaler. "It includes some wonderful photographs: portraits of soldiers and their loved ones, as well as photographs of bodies on the battlefield. It's a range of media and types of art that tell a different part of the story of the Civil War."
The goal of the website is to help teachers and students use art in social studies and history classes, and "make connections and see relationships that wouldn't have been easy to understand before," said Siegenthaler.
Last August, the Terra Foundation held a workshop for social studies teachers and introduced them to content from the Civil War in Art website.
"They started developing classroom projects with content from the site. They provided feedback for the site which was still in development," said Siegenthaler.
Jessica Marshall, 10th grade U.S. history teacher at a local public high school, was part of that test group.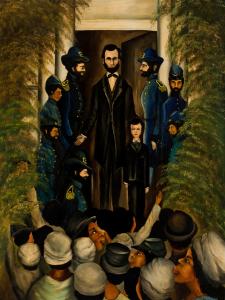 "I was involved in the program last summer. They pulled us all together and we would take trips to see the [art] pieces in person, and they had some professors come in and talk to us, and we had time to use some of the pieces to create lessons for some of our classes," she said.
Marshall says she used the Civil War website for a classroom project in February. 
"We were looking at issues of freedom and equality. We looked at the Civil War and Reconstruction, and what freedom meant to African Americans," she said.
Marshall says they used an etching from the 1860s and compared it to a piece done 100 years later by an artist from Hyde Park.
"We looked at the same time period but with different perspectives on emancipation and what that meant for African Americans," she said.
Marshall says the art from the Civil War was more hopeful about freedom and moving forward, while the one from 1963 "is about how emancipation didn't bring equality and left a lot of things unanswered for people."
She says her students liked the zoom function of the gallery online, where you are able to examine minute details, many of which were previously unavailable.
"They could zoom in and pick out characters in different pieces," said Marshall. "It's a different way of using art. We were able to generate questions they wanted to investigate more based on looking at the piece."
Visit the image gallery below to view photos from the new Civil War in Art website.