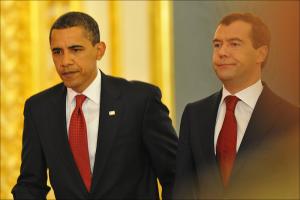 This week, an unscripted moment between President Obama and Russian President Medvedev provided a rare window into what Obama might do, foreign policy-wise, if voters give him a second term.
Sitting in front of a horde of photographers at the Nuclear Security Summit, Obama leaned into Medvedev and asked for a little understanding. "This is my last election," Obama said in a low voice to Medvedev. "After my election, I have more flexibility."
The president, White House officials later confirmed, was referencing top-level negotiations over a missile shield that members of NATO are planning to protect themselves from foreign attack. Adamantly opposed to the shield, Russian leaders say it's aimed at them – and strengthens Europe at the expense of other countries.
The missile tensions are the reason Russian President-elect Vladimir Putin is not attending this year's NATO summit in Chicago, which he would otherwise normally attend.  
Obama's comments suggest he would be willing to help mediate the missile tensions between Europe and Russia in his second term, but can't afford to try in the current, contentious political climate. Within hours of the open mic slip, his words were quoted in news headlines across the U.S., Russia, Europe, and the world.
On Tuesday, in an effort to do damage control, Obama conceded his foreign policy ambitions are often limited by domestic gridlock.
"The only way I get this stuff done is if I'm consulting with the Pentagon, with Congress, if I've got bipartisan support," he told reporters on the final day of the Nuclear Security Summit. "And, frankly, the current environment is not conducive to those kinds of thoughtful discussions."
As of now, the president has put missile talks with Russia on hold.
Watch the video below.