In the early 1980s, Chicago Public Schools teacher, Carlos Tortolero, had a vision for a museum devoted to Mexican art. Add the support of then-Mayor Harold Washington and a Park District building in Pilsen that had been used to store boats, and you have the beginnings of the National Museum of Mexican Art, now celebrating its 25th year. The museum is free, includes Mexican art from around the world and is devoted to engaging the immediate community.
Phil Ponce talks with Tortolero, the president and founder of the National Museum of Mexican Art, on Chicago Tonight at 7:00 pm.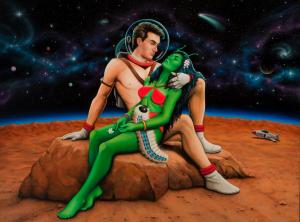 The National Museum of Mexican Art is celebrating its 25th anniversary with a series of three exhibitions. One of the those exhibitions, Keepers, focuses on the museum's recent acquisitions and includes only works from the museum's permanent collection.
"We don't always have an exhibit to put acquisitions in right away," said Chief Curator and Visual Arts Director Cesareo Moreno. "We're highlighting pieces, some of the newer, more eye-catching pieces we've collected."
Amor Alien by California artist Laura Molina is one of the most striking paintings in Keepers, featuring a bright green alien woman in the arms of a scantily clad 1940s-style astronaut.
"What she's really talking about is not just alien love, but interracial, bicultural relationships," Moreno said.
While aliens have been used as stand-ins for other races by science fiction writers for decades, Amor Alien's reference to Mexican myth may not be commonly known to some museum visitors, Moreno said. The painting is inspired by the Legend of the Volcanoes, which tells the story of two indigenous Mexican lovers who take their lives thinking the other is already dead; think Romeo and Juliet, Moreno said.
The myth spawned a popular Mexican painting used throughout Mexico in calendars.
"It has become a virtual icon in the Mexican-American Chicano culture," Moreno said. "I wish I had a dime for every tattoo or restaurant menu or low-rider car that has that image painted on it. Many of our Mexican-American visitors, when they see Amor Alien, it's got to be one of the first things they think of."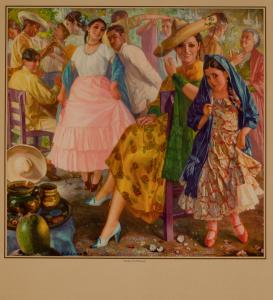 The calendars that popularized the Legend of the Volcanoes are also part of another of the museum's exhibits: El Alma de la Fiesta (The Life of the Party). Depictions of party scenes were popular on Mexican calendars that were a staple in almost every house, Moreno said.
"Most people look at them and say, 'Cool calendar, nothing significant here.' But that's completely the wrong take on it," he said. "In the 1930s and '40s, artists became household names by doing enormous oil paintings not to be displayed, but to be photographed and used in a commercial way."
The calendars, which depicted Mexican culture from regions across the country, were offered to small businesses with the businesses' name and phone number printed on them. Businesses would offer them to customers as free advertising, but Moreno said Mexicans began collecting them because of the artwork, and kept them long after the calendar was outdated.
"In a time when there were no televisions and radios were rare, this was the main advertising in Mexico," he said. "And when they came to America, they became symbols of the motherlands. You have generations of Mexican-Americans, myself included, who grew up with these romantic images of Mexico hanging on the walls of our homes."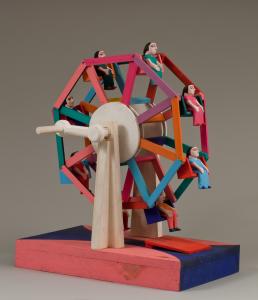 The Fiesta exhibit also includes several handmade toys, popular gifts for children traditionally given during Catholic holidays in Mexico.
"They're from another time, when entire families would dedicate themselves to making four or five different types of toys," he said.
And the toys were more than commercial goods.
"I see them as incredible works of art," Moreno said. "We always make this distinction in the art world between fine art and folk art. I see very little difference...They are so much more than just toys."
View more works from the museum's 25th anniversary below.