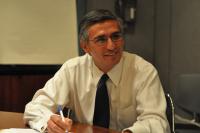 Half an hour before Wednesday's debate with Cook County Circuit Court Clerk Dorothy Brown, 22nd Ward Alderman Ricardo Muñoz was considering an important question: which Harold's Chicken Shack was the best in the city?
After learning that I had recently graduated from the University of Chicago in Hyde Park, Muñoz and a staffer were soon discussing the famous Chicago chain with me, which has one of its many franchises near the school.
The Hyde Park location, on 53rd Street and Kimbark Avenue, was an "8.3 out of 10," according to Muñoz and his staffer, compared to a mere 6 out of 10 at a newer, cleaner location Muñoz had recently visited.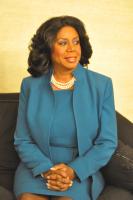 We agreed that the bulletproof glass at some Harold's restaurants—Hyde Park included—added something to the atmosphere, and perhaps made the fried chicken taste a little better.
"If you don't want to steal the chicken," his staffer said, before trailing off.
But the two quickly returned to more serious issues, getting ready for the debate by reviewing past Tribune coverage of his opponent.
Wednesday's forum was the fourth time incumbent Brown and Muñoz have met in a debate setting. Brown said she hasn't changed up her debate prep over the past few weeks.
"I may have added a few things here and there," she said. "But I try and focus on the compare and contrast."
While waiting for the studio crew to set up, Muñoz made photography small talk.
"I used to be a photographer by trade," he said to me as I took his picture. "This was back before it all went digital. I really liked candid shots, what I used to call slice of life. [For personal pictures] I would put all the negatives in a Ziploc bag and develop everything once a year."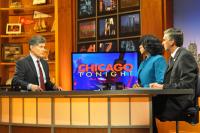 That photography background became the source of an attack by Brown during the debate.
"I respect photographers, and I know that is his profession, but I really don't think that that profession is something that should be utilized for an office like this," she said.
Watch the candidates' discussion on our show.
Visit Chicago Tonight's County Court Clerk March Primaries page.