Sunday is Oscar night. And as Hollywood prepares to see who takes home the biggest prize, we take a look at where that prize is made. Ash-har Quraishi gives us an inside peek at the Chicago company that literally makes Oscar gold.
Before Hollywood's most coveted golden statuette makes its way into the hands of an Oscar winner, it has to be made -- and that happens right here in Chicago.
For the last 30 years, Chicago-based R.S. Owens & Company has been making the Academy Award of Merit, better known as "Oscar," at Owens' North Side manufacturing facility.
Founded in 1938 by Owen Siegel, the company is now run by his son, Scott Siegel.
Siegel says the Oscars came to R.S. Owens after the previous maker went out of business in the early 1980s.
"They told the Motion Picture Academy that they were no longer manufacturing awards and recommended us, which was quite nice," said Siegel. "We were already manufacturing the Emmys at that time. We were union so we had some street credibility, so the Motion Picture Academy gave us a shot."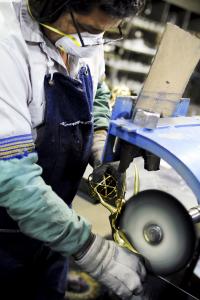 It takes 10 skilled artisans about 5½ hours to make the Oscar.
They begin by casting the award in a special alloy developed specifically for Oscar, called Britannium.
Next, the finished mold is cleaned up and buffed to a mirror-like shine.
"I think the most difficult part is when you go in polishing. Because you can polish it and make it beautiful and bright, but sometimes you have pinholes here, little scratch. And, for me, that's the most difficult part because you have to be 200 percent," said Plant Manager Jorge Marroquin.
It will then be dipped in a series of electroplating processes to help arrive at the final finish.
The statue is plated in copper, nickel, silver, and finally, 24-karat gold, and will be buffed once again for about an hour.
Every Oscar gets its own serial number.
"This is the old engraving system. This is where we put the serial numbers on the Oscar statuette itself," said R.S. Owens worker Louise White.
Interestingly, the company makes engraved plates for all of the nominees to keep the winner a secret. The final plate is added after the winner is announced.
By this time, the award is handled with white gloves only, and prepared for packing and shipping to Los Angeles.
And while R.S. Owens is most famous for making the Oscar statuette, it is just one of many prestigious awards manufactured right here in Chicago.
Owens has produced some of the most well-known trophies on the planet, including the MTV Music Award and the Primetime Emmy.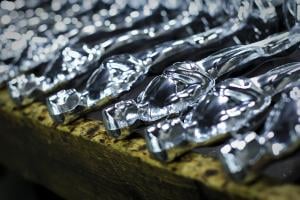 When the creators of American Idol realized they needed their own signature award after seven seasons, R.S. Owens was the obvious choice to design and manufacture the prize.
"We've created some amazing, amazing awards," Siegel said. "And what I love to hear from our customers is that our awards exceed their expectations, that they get it and they're just so pleased and so wowed by what we're able to accomplish here."
In 2010, they were asked by the makers of AMC's Emmy award-winning drama, Mad Men, to produce a replica of the 1964 Clio Award for excellence in advertising -- for use on the show.
While the company uses the latest in manufacturing technology, it prides itself on traditional hand-crafted artistry.
"We're one of the last manufacturers of awards in the United States," Siegel said. "We're probably the only manufacturer of our kind that's pretty much full service, from design to making molds, and casting and fabricating out of aluminum, brass and crystal. So, we're like the last company standing."
But, even being the most well-known prize maker in the world doesn't make Owens immune from cheaper products manufactured by competitors overseas.
"A lot of the business has gone over to China," Siegel said. "And we hope that we'll be around for a long time because we can deliver much more quickly than China can. We can guarantee quality which China can't, and we can guarantee safety."
So, the pride in keeping Chicago the cradle of the trophy-making industry remains strong. R.S. Owens says it continues to fight off the threat of foreign competitors and is continuously seeking new clients.
And, for the foreseeable future, it will continue to manufacture the world's most famous gold trophy.
For behind-the-scenes production photos, visit the image gallery below.