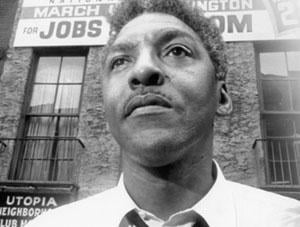 On this Martin Luther King, Jr. holiday, we take another look at the March on Washington. It was one of the pivotal moments in the Civil Rights movement and for Dr. King. But it wasn't Dr. King who organized it. Another nonviolent organizer, Bayard Rustin, did.
Known as the "invisible man" of the Civil Rights movement, Rustin was raised Quaker by his grandmother, was a disciple of Gandhi and was openly gay. An award-winning film about his life, Brother Outsider: The Life of Bayard Rustin, follows his journey and importance in the Civil Rights movement. Watch Chicago Tonight at 7:00 pm for more.
What would Dr. Martin Luther King, Jr. think of U.S. politics and race relations in 2012? Post your comments below or sound off on our discussion board!
Bayard Rustin would have turned 100 this year. The Chicago History Museum is hosting a celebration of Rustin's life on February 9. For more on the film, visit the links below.