Famous for its buttery assortment of sweet treats like Pinwheels and Butterscotch Stars, Maurice Lenell cookies have been beloved by Chicagoans for nearly 75 years. 
For cookie lovers, taking a bite out of a Maurice Lenell cookie is like tasting a childhood memory.
"It's the fragrance," says shopper Rita Anderson. "When you open the box, it has that certain fragrance. That reminds me of our childhood."
For more than 70 years, Maurice Lenell cookies were manufactured and sold right here in Chicago, primarily out of their Harlem Avenue shop.
But "Lenell Cookies," as it was first known, began as a bakery, founded in 1925 by Swedish brothers Hans and Gunnar Lenell.
In 1937, the bakery changed its name to "Maurice Lenell." 
"His name was Erik Maurice Lenell and he was the son of Hans Lenell," explains Jill Bocskay, who is Hans Lenell's granddaughter.
"Hans started the company with his brother. But his son was actually the namesake of the company," she says. "He chose that name because it was kind of an American sounding name – less European or Swedish, and he thought it would be easier for people in the United States."
For nearly 50 years, the Lenell family built a name and a loyal following for specialties like Pinwheels, Raspberry Jelly Swirls and Almonettes.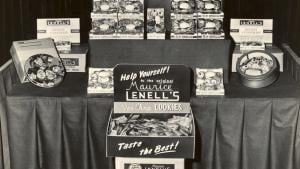 "In Chicago, everyone still talks to me about it," says Bocskay. "As a child, people would go there for every holiday to get lots of cookies for all their relatives, but also they would go there because you could see the cookies being made. It's so much a part of people's childhood."
In 1985, the Lenell family decided to sell the Harlem Avenue bakery. The cookies were produced by another company for 22 years. But, when the Maurice Lenell Cooky Company, under the new company's management, declared bankruptcy in 2007, many feared the historic confections would be lost forever.
But two years later, the newly formed Hearthside Foods, a Chicago-based baking company acquired the Maurice Lenell brand.
"Maurice Lenell is a top-of-mind brand, and it's in the hearts of Chicagoans and it's part of their past," says Hearthside Vice President of Marketing, Roy Jasper.
Jasper was tasked with resurrecting Maurice Lenell.
"Our job was to figure out how to re-establish that same feeling and that same emotion in the brand, and carry it on," he says.
Staying true to the Lenell tradition was imperative for the company's CEO, Rich Scalise, a native Chicagoan who had fond memories of his childhood treat.
Today, Maurice Lenell cookies are produced in McComb, Ohio.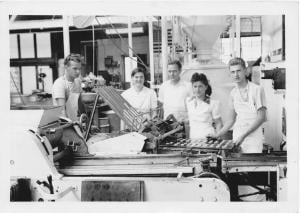 But because the original cookies were produced on old, slow-moving production lines and batch processes no longer used in modern, high-speed bakeries, Hearthside had to set up a separate production line that could bake the Maurice Lenell cookies in low volumes, similar to the originals.
"The original Lenell equipment from 1937 is actually in this facility," Jasper explains.
They even use the original cookie dyes to make Lenell's unique shapes.
The signature Pinwheels are made in almost exactly the same way they were a half century ago.
"It's actually a swirl machine that combines chocolate and vanilla dough into a rolled log," says Jasper. "Much like you would put through a Play-Doh machine."
"The rolls of dough were about three feet long," says Bocskay. "And they were hand rolled. But then they were slid into a trough. And then, they would be sliced and then put on pans and then put into an oven."
Hearthside is still working on efficient methods to get just the right number of swirls in the Pinwheels.
"Do we hit it right every time?" asks Jasper. "No. Are we closer? Yes."
Which is important since Pinwheels are the top-selling cookie…
"I mean, everyone's favorite is the pinwheel," says Jeff Bach, owner of a retail store that sells the cookies.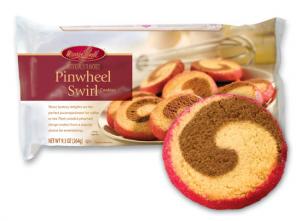 Last year, he and his brother became part of the Lenell legacy by opening up The Cookie Store & More on Harlem Avenue, just blocks from the original location.
"Five to ten people will walk in this store every day and just jump to the ceiling, 'Oh, my God, you're back!' And they tell us all their stories," Bach says.
It's the only place in Chicago where you can get all nine varieties of the Lenell cookies, as well as the assortment collections and the limited edition Holiday Tins.
Tom Meilstrup drove all the way from South Bend, Indiana to resurrect an old family tradition from the 1960s.
"We have a history with this cookie company as far as cookies being given out as presents at Christmas for lots of years," Meilstrup says. "So, we started chasing it down after the company had closed to see if we could find them anymore and if they were still in existence. And we were fortunate enough to find the Cookie Store."
With a cult following and so many people dedicated to keeping the brand alive, Lenell family members like Jill Bocskay say her family's traditions live on.
"It's tremendously gratifying," says Bocskay. "It makes me so pleased. And my mother, who passed away last year, it was such a happy thing for her to find that the product was continuing and people still were able to have this part of their childhood. We're very grateful for it."
The Cookie Store & More is located at 3829 N. Harlem Avenue in Chicago.
Check out a timeline of the history of the famous cookie company below.
Dipity Timeline created by Interactive Content Producer Yasmin Rammohan.